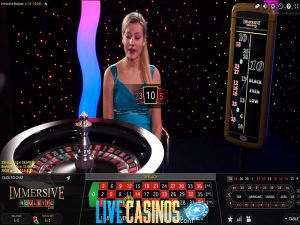 Although you may love the privacy and seclusion that comes with playing online Roulette, perhaps the time has come to get outside the box and see exactly what you have been missing so far by systematically avoiding Live Roulette tables. Once you get acquainted with all the perks that a Live Roulette has to offer, chances are that you will leave the online automated variant in the past and shift to the real time Roulette entirely. The authenticity and the exclusive land-based casino insight are only some of the advantages that Live Roulette holds over its video counterpart. Together with the higher level of excitement and the adrenaline rush which comes from the brick and mortar casino's background activities, the player gets to experience the game on an entirely different level that the standard online Roulette simply cannot reach.
The Social Aspect of Live Roulette
No matter how much you value your alone time and how focused you would like to remain in the actual game, online Roulette lacks one important ingredient that only Live Roulette can give you – authenticity. Any true Roulette enthusiast will have to agree that there are simply no substitute for being a part of the action at the actual Live Roulette table, surrounded with fellow gamblers and feeling the pulse of the casino life – even if it is through your computer screen which will still serve as a shield in case you are an incorrigible introvert shying away for social events.
With Live Roulette, the casino will give you an exclusive opportunity to interact with other players, strike up a conversation with the dealer, and most importantly, observe the mannerism of other players, one thing that you definitely cannot do if you play regular online Roulette. You can definitely pick up a few tricks from the more experienced players, or at least learn from their mistakes. Certain online casinos will even grant limited access to their live tables, without conditioning the new table guest to immediately place the bet. In other words, you can spend a certain amount of time at a table as a mere observer and simply collect the information you need before you decide to join in or walk away.
Virtual vs Real Roulette Wheel
Not all casinos have their games tested for fairness and you may not always be able to find the details about the online casino's random number generator. This, of course, may have you doubt the randomness of the online Roulette wheel, especially after a long losing streak. Many players are more comfortable around the real Roulette wheel, as it provides less space for irregularities. This does not mean that online Roulette is not safe, but the list of things that can go wrong with Live  Roulette is a lot shorter than the one when dealing with an untested standard online Roulette software.
Table Limits and Loyalty Points
Traditionally, the table limits in Live Roulette are much higher, making them simply ideal for high rollers, or people who like to let their hair down every once in a while. With higher limits, the player will receive a significantly higher number of loyalty points, that can later be translated into cash, additional wagers or even directed towards changing your status to a VIP member. A reputable online casino monitors the actions of their visitors closely, making sure they are protected at all times – frequent presence at high limits tables such as Live Roulette will put you on the casino's radar and result in perks that are not accessible to a regular casino member.
Tournaments and Competitions Reserved Exclusively for Live Tables
This is where it gets really interesting – tournaments are a great way to break the routine, apply your gaming skills and earn a substantial amount of money. Players from all around the globe are invited to participate and compete for the main prize, which can be generous, to say the least. Even if you are not the tournament winner, the casino often surprises the finalists with consolation prizes while those loyalty points keep flying around like crazy. So, in a way, everybody is a winner.
We recommend you try these 5 live roulette games – each of which offers something different: