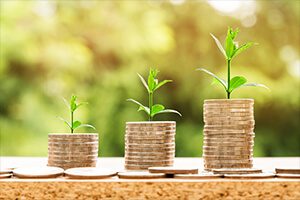 The first thing you learn about live dealer games is that they can be played with real money only. While virtual casino games can be played for fun with fake money, if you want to play at tables hosted by real-life dealers, you have to be ready to risk your hard-earned cash.
While all casino games are designed in the house's favour, by managing your bankroll in a smart way, you can make the most of your stay at the casino. An effective money management system won't work without a proper game strategy though. Yet, it is the first thing you should master before you start playing any live dealer game. In this guide, we will provide you with tips and tricks you can use to make your money work for you.
Set Aside Casino Money
The first thing you should do before you make a deposit is to set aside casino money or, to put it simply, the money you can afford to gamble. Gambling can be fun only when you don't have to worry about paying your bills. To enjoy your time at a live dealer table fully, make sure to know how much you can gamble before you start placing your bets.
If you can afford $20, which is a minimum deposit amount accepted by most casinos, go with it. Once you have set your bankroll, you have to stick to it and must not exceed it under any circumstances.
Set Your Session Stakes
This is another thing you should determine after you have decided how much you can afford to gamble. When we talk about a bankroll, we talk about a total you can use to play casino games. On the other hand, session stakes are fragments of your bankroll you will use for wagering. For instance, you can set your bankroll at $100. This is money you don't need for the maintenance of your household or groceries. As for session stakes, you can determine an amount you will wager per day or week. Let's say you want to wager $20 out of $100 per day. In this case, you will have to place your bets wisely until you reach your daily limit of $20.
What you should bear in mind is that no matter whether you are winning or losing, you must not exceed your session stake or your bankroll. This is most the tempting thing about money management but you have to learn to act rationally and don't let greed or pity has control over you.
Strategy over Betting Systems
There are many betting systems promising that you can beat the casino and win big if you play by them. They can be positive or negative and in most cases they are progressive. What does it mean? According to them, you should increase your bet if you win (positive) or lose (negative).  However, they can be detrimental to your bankroll and lead to losing control over your spending.
Instead of learning how to apply these betting systems, you should invest your time in learning the proper strategy for the game you want to play. Placing bets strategically within your session stakes while making the best possible moves is key to winning at live casino tables in the long run.
Closing Thoughts
You should master bankroll management skills and use them whenever you play casino games. Choose those payment methods that come with no additional fees and make your transactions and wagers wisely. Winning or losing, always stick to your bankroll as that's the only way to your live casino success. And, don't join high limit tables until you can really afford to play at them.