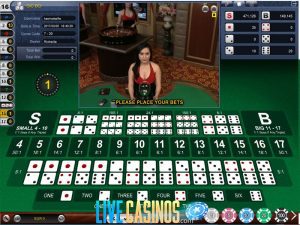 At a significant number of online casinos you'll find craps as the only game involving dice. However, the situation is slowly changing as the interest for the ancient Chinese game of Sic Bo is becoming bigger and bigger. In order to satisfy the growing community of Sic Bo lovers, several different software developers decided to launch their takes on this traditional Asian game of chance.  The real treat is playing live dealer Sic Bo, as you can observe the dice being rolled and become immersed into a realistic Sic Bo experience.
How Sic Bo Works
This ancient Asian gem, known also as Tai Sai (loosely translates to 'lucky dice') and Dai Siu ('big small') is a fast-paced game for passionate gamblers and provocateurs of good fortune, one that is always played with three dice. Apart from the three dice, there is a Sic Bo table upon which you will be placing your bets. The gameplay is pretty much dictated by chance, but at least you won't have to deal with an automated software program. Instead, you'll be able to see the real dealer (a gorgeous young lady, mind you) throwing the dice live on camera. Each roll of the dice is an independent action, and you there's no use in trying to find a pattern. The key to being better at Sic Bo is proper money management and being smart with placing bets.
Playing Live Sic Bo
When at an online casino that features Live Sic Bo, you should expect to see a streaming video that includes a dealer standing at a Sic Bo table as soon as you load the game. A part of the screen will be occupied by a virtual Sic Bo table layout where you will be placing your bets as you won't be physically there. Other than that, everything is as physical as possible. A real, human dealer will finalize each roll of the dice, and you'll have a minute or two between rolls to place bets. Make sure you are familiar with all the betting possibilities before you place real money wagers, as there are over 50 bets in the game of Sic Bo. You'll be wagering on different combinations of outcomes of the three dice, just like in a regular Sic Bo game hosted at grandiose casinos in Macao.
Live dealer Sic Bo is usually streamed from authentic casino studios managed by the software provider, and depending on the supplier you come across you may be able to take advantage of some additional features such as chatting with the dealer and other players at the same table. Sic Bo live stream tables can accommodate a practically unlimited number of participants.
Live Sic Bo Providers
As we already mentioned, Sic Bo is a dice game with a strong Asian background and a fairly recent break through on the western online gambling market. Still, there are several casino software providers that have taken a serious interest into delivering live dealer Sic Bo rounds to their fans through partner casino venues. You can take pleasure in a Playtech version of Live Sic Bo broadcasted from the company's Asian studio, or try out Live Sic Bo from developers like Bodog88 (streamed from Makiti City studio), Opus Gaming, HoGaming (streamed from their Philippine studio) and Visionary Gaming, among others. The great thing about Live Casino is that you can access it from your mobile devices in most cases, including your favorite version of live dealer Sic Bo. You can watch those dice toss and turn from wherever you are and truly appreciate the power of modern casino technology.