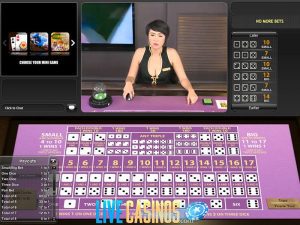 When you hit an online casino, your joy can only get bigger if you see that the venue you've chosen to invest your money in offers live dealer games. No matter how much we appreciate virtual casino games there is no comparison with the real casino floor sensation now available online via live casino technology. Through the lenses of web cameras players at home are able to observe and participate in their favorite casino games in real time, as well as feel the presence of a real croupier calling the shots instead of a computer program with no personality whatsoever.
As one of the greatest gambling markets in the world, Asia has brought certain games of its own to the online gambling table. Very fond of classic card games and games of dice, there are multiple live dealer accomplishments for internet casinos generated by the Asian community. The latest update on Asian live dealer games is that they are really blowing up in the international market. So why are they suddenly so popular? We investigate the attractiveness of Asian live casino titles.
The Upsides of Asian Live Dealer Games
By looking closely at some of the Asian-related casino games, one can't help but conclude they are fairly attractive as it is and when you add that sparkle of new technology to them – awesomeness ensues. Here are the main points which make out the allure of oriental casino games available via live stream.
The Looks: games conceived for live broadcast know how to capture one's interest. Asian studios contribute to the authenticity of the games, and you won't find a single object out of place. There will be several active cameras following the actions at the table, zooming in on the dealer shuffling cards or rolling the dice which is a really neat feature. The video quality will always be the best possible, depending on your internet speed. Apart from smooth streaming, you'll get live results for your session.
Exceptional Games: Live Blackjack and Live Roulette have almost become a standard at every live casino suite out there, but when you add unique games like Sic Bo and Red Dragon into the mix, you get a more complete selection of live casino, and more attractive for sure. These games have a touch of oriental tradition that refreshes the casino floor and makes the gameplay more exciting. They motivate players to learn something new and improve their knowledge of the casino world, and offer a touch of the exotic.
Native Dealers: Maybe the greatest attraction of Asian live streaming casino games is the presence of native dealers who are predominantly gorgeous young females. Their job is to make the customers feel welcome and introduce them to a representative aspect of Asian culture. Often enough, they will be dressed in traditional clothes and use their native language to communicate – which leads us to another appealing factor, interaction. Live casino games are mostly equipped with a live chat option so that clients can experience that real human involvement during gameplay.
Good Organization: if you load one of the baccarat games streamed from an Asian studio or join one of the Sic Bo tables, you'll be surprised how well organized everything is and how easy it is to grasp the basics of placing wagers. With everything neatly displayed and sorted you'll enjoy Asian easy-to-use tables. This is particularly convenient for beginners who are in the process of learning how live casino gambling works or have just started do explore the exotic world of Asian live dealer games.