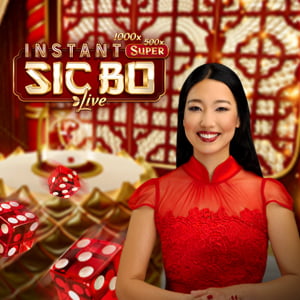 Live casino software providers Evolution have recently announced a new title called Instant Super Sic Bo, which features an interesting innovation that could have a wide-reaching impact.
The game itself seems like a simple update to the successful Super Sic Bo at first glance. However, a few interesting ideas make this release a lot more interesting than you would expect. It's scheduled to release on November 11, hot on the trails of other new Evo games such as Funky Time and Red Door Roulette.
Specifically,, the 'Instant' part of the equation is unlike anything we've seen in live casino games before. Here's what we can expect from Evo's upcoming instant-play game and what makes it so unique in the live dealer landscape.
Play At Your Own Pace
As the name implies, this game's defining characteristic is the ability to bet at any moment and see near-instant results. If you're wondering why that matters, consider the following.
Most live casino games have a certain flow to them. Players can only place bets during a designated pre-round period. Once the actual round of the game kicks off, betting is closed and you'll have to wait around for the next turn. Conversely, If you miss your chance to wager during the betting period, you'll have to sit out the next round.
All of this is simply a limitation of live dealer gaming, inherent to the very concept of live tables. Until now, at least.
That's where Instant Play comes in. In Instant Super Sic Bo, you can bet at any moment, any way you want. As soon as you do, you'll see the results in a few seconds, give or take.
The mechanics of how Evolution achieved this are simple – the Sic Bo dice are rolled over and over again, on a continuous loop. Rounds are not divided by betting periods or downtime.
When you place a bet, it will be active in the next available round. Considering how quickly Sic Bo dice can be rolled and bets settled, this means there's only a few seconds of waiting involved at worst. At best, you get instant results any time you want.
The Pros and Cons of Instant Play
The advantages of this design are obvious. No downtime, no waiting around for your turn – just pure, simple gameplay.
Of course, not everyone is going to like this. Sometimes, the biggest excitement comes in these quiet moments of anticipation. That's when players usually interact with each other, the presenters, or whatever. With Instant Super Sic Bo, the action takes place at break-neck speeds, leaving you with less time to think about your next move.
Of course, not all games are as suitable for this kind of approach as Sic Bo. An Instant Roulette game took 4 wheels to make, and we can't imagine slower-paced games like blackjack could ever handle something like this.
Still, this somewhat subtle little game may be followed up with similar concepts, changing the way we play live casino games. It's an interesting thought. Personally, though, we enjoy having the extra time to make cool-headed decisions.
If you're looking for more information about Evolution's Super Sic Bo and where to play it once it releases on November 11, check out our detailed preview of the game.