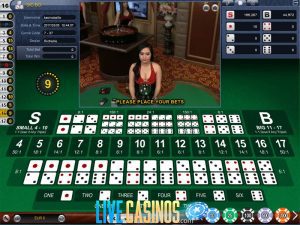 What is Sic Bo?
Traced back to Ancient China, Sic Bo, aka Tai Sai, Dai Siu, Big-Small or Hi Lo, is considered the oriental version of Hazard in England or Craps in USA. Today, Sic Bo is played in online and land based venues across the globe, especially those that are targeting the Asian market. Since this game is based on chance and varying odds, Sic Bo enthusiast who have years of experience would not dream of joining a live Sic Bo table without a detailed bank managing plan, a well developed betting system and a stroke of good luck.
Basic Rules of Sic Bo
The essence of the game is the same as with most dice games –  players select the numbers to wager on and once the bets are closed, three dice are being shaken inside a small container which is then revealed. The betting potential is vast, with the list of possible bets that will make your mind spin until you memorize them. The table of offered bets will vary depending on the location or the variant played but for the most part they look as displayed in the table below:
| | |
| --- | --- |
| Bet Name | Bet Type |
| Big  | The total will be 11 to 17 |
| Small | The total will be 4 to 10 |
| Specific Triples | Specific number will land on all dice |
| Specific Doubles | Specific number will land on two dice |
| Any Triple | Any triple will land |
| Three Dice Total | 4 or 17, 5 or 16… 10 or 11 |
| Specific Dice Combinations | Two dice will create a specific combo |
| Single Dice Bet | A certain number will land on one or all dice  |
| Four Number Combo | 3 out of 4-number sequence will land in a specific combo |
Sic Bo Bets offered in Macau Casinos
How to bet in Sic Bo – tips and tricks for the optimal game of Sic Bo
Tip 1
Most experienced Sic Bo players will always recommend that you stick to Big and Small betting options as these are the bets with the most favourable odds and the lowest house edge – only 2.76%.  To further improve your chances, covering a wider range of numbers and bets is also highly recommended, if, of course, the casino allows it.
Tip 2
Another thing to bear in mind is that not all bets under the same category will have the same odds and the same house edge. For example, you will have a higher payout on a Three Dice Total bet with the total of 7 to 14 than with the same bet type but on a total of 8 to 13.
Tip 3
Bets with high payout rates should be avoided at all cost, if you can help it or if you are not an adrenaline junkie.
There is a reason that the casino is willing to cover a payout rate of 180 to 1 for the Triple bet. The chances of a player accurately guessing a specific number that will appear on all three dice on a single roll are minimal and so many chips are already lost on the same bet that the house will not even notice a difference in the cash pile after covering the Triple bet.
Tip 4
Do not put all your trust in a betting system  – while it is always a good idea to have a plan and a betting strategy that you can employ to your game, your decision and wagers will have to move with the game. In other words, do not be afraid to go where the game takes you.
Betting and bank managing plans should be a tool rather than a principle. For the best possible outcome, the players should definitely use their commons sense, which does not always mean tripling the bet after almost losing all of your money, regardless of what some progressive betting system will have you do.
Tip 5 
Do not disregard the factor of luck. Whether or not you believe in the existence of winning and losing streaks, Sic Bo is a game that rests on the principle of good fortune and should be played as such. That means that trusting your gut feeling from time to time may not be a bad idea – otherwise, there is absolutely no point in playing any game of chance. Risk and anticipation are the two main factors that make the game of Sic Bo what it truly is – an intensive, unpredictable and exciting roll of the destiny.