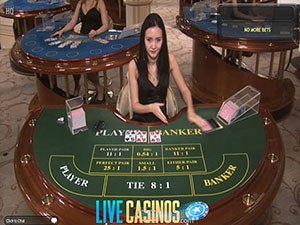 Baccarat has become one of the most played real money games in online casinos. Since the game was featured in a James Bond movie, more and more players have become interested in this fast paced and easy to play casino game. Baccarat has one of the lowest house edges of all casino games and favourable odds, making it an attractive choice for anyone playing for real money. When playing at online casinos, players will often find a standard Baccarat game as well as a Mini Baccarat game.
What is Mini Baccarat?
Mini Baccarat is a spinoff of the standard version of the game and it is a perfect choice for the average gambler. With this game, players can enjoy all the action of a baccarat game with low betting limits. This is also a faster version of the game. The game rules are the same as with standard Baccarat. Players will bet on the banker or player hand and can also bet on the tie. The goal is to bet on the hand that has the closest value to 9. With mini baccarat, there are very few differences in rules, allowing players with any baccarat experience the ability to enjoy the game.
Differences Between Mini and Regular Baccarat
When playing mini baccarat, the banker position will have the main duty of handling all cards. In the standard version of the game, the role of the banker is passed around the table, but this is not the case with mini baccarat. The mini version of the game also uses only six decks of cards, where the normal version uses 8 decks. Using fewer decks does change the odds in favour of the casino when it comes to tie bets.
When playing mini baccarat, the deal is much faster and easier. The cards are placed in a right side position as opposed to upside with normal baccarat. Mini baccarat games often have lower wagering limits. The normal baccarat game in casinos will attract high rollers, but those with a limited bankroll or those that prefer smaller bets will benefit from mini baccarat.
Types of Mini Baccarat Online
When accessing an online casino, players can choose to sit at the mini baccarat tables or they can select a live dealer version of the game. Players who are looking for the most realistic gambling experience will benefit from live baccarat and one can learn more about this option by reading the information provided at https://www.livecasinos.com/games/baccarat/playtech-mini-baccarat/, which outlines the mini live baccarat game from Playtech. Mini baccarat is an exciting and rewarding game that is perfect for those just starting out or those that wish to gamble with less money. The game is fast and existing, but it is also one of the simplest games online, making it an attractive option for any new player.