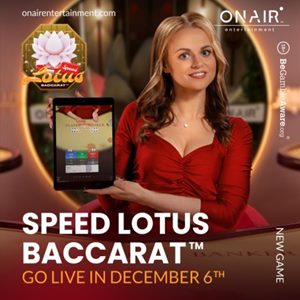 OnAir Entertainment, one of Games Global's live casino suppliers launches its 9th title. This latest release is just one of the few coming our way in the upcoming months. Lotus Speed Baccarat has just gone live across all OnAir Entertainment partners.
Simple Rules
The game is a variation of baccarat that offers more hands per hour, compared to standard versions of the game. It features the same baccarat rules, the game which is extremely popular with high-rollers. Additionally, it comes with swifter rounds, allowing players to get more value from their sessions. Thanks to the unlimited seat technology, you will never have to wait for the seat while playing Lotus Speed Baccarat.
If you are familiar with the popular card game, you will master the rules in no time. However, if you have never played baccarat before, there is no need to worry. After a round or two, you will see how simple it is to play. Players bet on the Banker or Player, predicting which hand will get the value closest to a 'Natural' eight or nine. You can also place bets on the hand ending as a Tie.
Side Bets
Players can also benefit from the seven side bets while playing Speed Lotus Baccarat. These side bets are completely independent of the bets you place in the base game. You will not have to place the main bet for most of these bets. The exceptions are the Player Bonus and Banker Bonus bets.
When it comes to interface, Lotus Speed Baccarat offers ease of use when placing your bets. You will also easily find hand histories, statistics, and baccarat roadmaps.