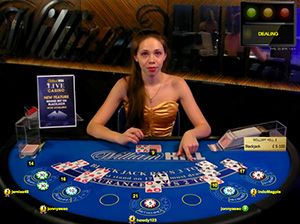 Live dealer blackjack is one of the most exciting ways to enjoy this casino classic and with some amazing betting options, there are multiple ways to collect winnings from these games. Many of the top live dealer blackjack games will offer the chance to place a side bet. With these bets, players can win more and enjoy many returns on the initial wagers that are placed. With side bet options, players will enjoy an enhanced game and will see their bankroll growing, even if they lose the main hand in the game. There are two different side bet options that are seen with live blackjack and these include Perfect Pairs and 21+3.
Perfect Pairs Side Bet
To place the Perfect Pairs side bet, players have to place an initial ante on the game. They will then place a chip in the box marked Perfect Pairs. Should the first two cards received be a pair of any kind, the side bet will win. If not, the bet is lost. The actual amount that can be win with this bet will vary based on what cards are received. If it is a mixed pair, such as a card of the same value but a different suit, the payout is 6:1. With a coloured pair, the payout increases to 12:1 and with a Perfect Pair, same value and same suit, the payout is an amazing 25:1.
21+3 Side Bet
Another side bet option with live dealer blackjack is 21+3. Here, the original game ante is required and then players will place their bet on the 21+3 box on the table. Here, players are looking to create the best three card poker hand, which is done by combining the first two cards dealt with the dealer's revealed card. With this bet, the payouts will be based on the rank of the hand that is created. A flush will offer a 5:1 payout while a Straight will offer 10:1. Payouts are increased to 30:1 with Three or a Kind and even higher at 40:1 for a Straight Flush. The top payout with this side bet is 100:1 with a Suited Triplet, such as three 5 of Diamonds.
When Can I Find Perfect Pairs Side Bets?
There are many online casinos that feature live blackjack that will allow for these side bets to be placed. Just about every provider that offers this type of game will support the Perfect Pairs side bet, including Playtech, Vegas Tech, Evolution, Cryptologic, Microgaming and RTG. With these options, players can easily find a live dealer game with an added chance to win more money.
For those that are looking to enjoy the 21+3 side bet, the choices are not as vast. Evolution is one company that offers these bets with the live dealer blackjack game and another is Playtech. Some WagerWorks casinos offer this bet option for live dealer players as well. Though this side bet is not as common as the Perfect Pairs bet, it can be very lucrative and can greatly enhance the excitement offered with this live dealer game.
Side Bet House Edge
In most cases, the house edge on any side bet is much larger than the standard bets that are placed during the game. When playing in Evolution casinos, the house edge is revealed in the game rules, offering a 4.1% on Perfect Pairs and a 3.7% edge on the 21+3 bet. With the standard game, the house edge is a mere 0.4%, so players can surely see the huge differences with the side bets that are offered.
We should also mentioned that many more blackjack side bets exist out there. Check out our guide to side bets in blackjack for more info.