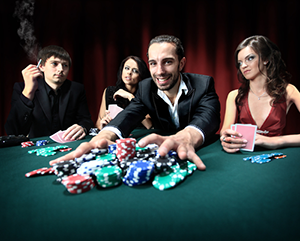 There are many games that are featured at casinos that will attract the attention of high rollers. Most players will hit the blackjack tables since they know there is a low house edge, but a large number of high rollers are drawn to Baccarat, an Asian style game that can offer amazing payouts in a short period of time. For high rollers, it is not always about winning money and in many cases, it is a matter of letting others at the table know who is boss. To these players, money is just a way to keep score. At the MGM in Vegas, it is not uncommon for high rollers to have a private roped off area where they play.
One of the reasons many high rollers are drawn to the game is due to the speed. It is possible to play between 40 and 55 games in a single hour, providing the chance to win huge amounts in a short period of time. Baccarat is the cause of much dispute amongst high rollers, where some poker players wouldn't touch the game for all the money in the world, while other high rollers feel this game offers the best chances to make money fast.
Baccarat in Vegas and Macau
In land based casinos located in Vegas and Macau, Baccarat is a huge draw and is one of the games that generate the most revenue for the casinos. Last year, almost all of the gambling revenue in Macau was from card games like Baccarat. Baccarat is a simple game that allows players to win or lose big and it is a game that has generated much revenue for Vegas and Macau casinos over the years. In fact, two thirds of the revenue in Macau casinos comes from those that play VIP Baccarat in private rooms.
For casinos in Vegas, there has been a massive increase in revenue from high roller Baccarat and the casinos took in over $1.3 billion from baccarat players last year. The game is currently offered in more than 25 casinos in Vegas and there are almost 300 Baccarat tables available.
Benefits of Baccarat for High Rollers
Baccarat offers a number of benefits to the player and since the game is one of chance, there are no skills or strategies that are used. While the player odds on the game are less than with other popular table games like blackjack, the game continues to attract high rollers, especially wealthy Asian players. Since there is no way to predict when a hot streak will occur, Baccarat remains a mysterious game that has much appeal.
One of the great benefits is the low house edge, which is around 1%. This is something that will always attract high rollers, even if other casino games offer better odds. Overall, Baccarat remains the fastest played game, which is also appealing as it allows more chances to win in a shorter amount of time. It is possible for high rollers to win millions in just a few hours playing this game.
Online Baccarat and Live Dealer Baccarat
With thousands of players worldwide enjoying the action at Baccarat tables, online Baccarat has become a popular selection. In online casinos, players will have the ability to select tables based on bet amounts and there are many high roller tables and even tournaments that can be accessed. With online Baccarat, players will enjoy the same fast pace and will have more chances to win higher payout. It is a known fact that online casinos offer better payouts than a land casino due to lower overhead costs, so this also benefits the player.
One of the attractive aspects of playing online is the offering of live dealer Baccarat. Most high rollers who play the game in an online setting will choose a site that offers live dealer games. With live Baccarat, players will play along with a game from a simulcast location, offering the most realistic action next to visiting a land casino. Many casino sites will reserve live baccarat for high rollers only, offering high table minimums and huge betting options for max bets.