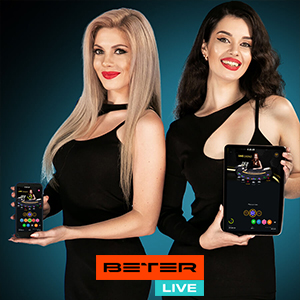 BETER Live has announced its first selection of live casino games. BETER Live is the newly-launched live casino brand of next-gen gaming experts BETTER. The company is kick-starting its journey to becoming a major provider of dynamic, innovative live casino products.
What BETER Has to Offer
The first four games released by BETER Live will be across Roulette, Blackjack, Top Card, and Baccarat. They have been orientated around the need for instant entertainment products for the next-gen player, with a high-tech twist.
The supplier's four debut titles are set to go live during December ahead of the festive period. They are housed in a richly designed minimalist studio and led by experienced casino dealers. 
Operators will be able to benefit from localized server deployment, a full range of complementary languages, and high-margin side bets.
The company's goal is to deliver reliable round-the-clock entertainment live from the most advanced virtual studio available on the market.
Next-Gen Gaming
Anna Vikmane, Director at BETER Live proudly introduced BETER Live's first four titles saying: 
"In the last few months we've worked tirelessly to build a team of industry experts who could help deliver what we believe is the most innovative and entertaining live casino offering to date.
"We're dedicated to championing a player-centric, entertainment-first approach and we're confident these first four live casino games will showcase exactly that. 
"This is just the beginning of a very exciting journey for BETER Live; we understand how to entertain the next generation of live casino players better than anyone else and today's announcement marks a landmark moment in the world of live casino.
"We truly hope that players relish our exciting range of new live casino games as much as we have enjoyed developing and bringing them to life."
With the company's collective industry knowledge and proprietary in-house technology, BETER Live aims to make its partners' operations both lucrative and easy to implement.
It offers a wealth of differentiators, including 24/7 streaming, top tier studio design and soon-to-be-launched bespoke marketing tools. All were designed to boost engagement, retention, and operator revenue.