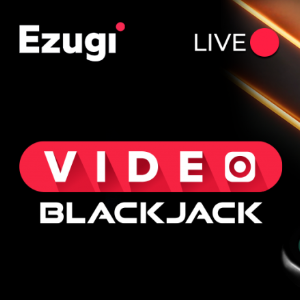 In February 2023, live casino software provider Ezugi announced the release of an innovative game dubbed Video Blackjack. Unlike most other live blackjack tables, this innovative new product allows player-to-player video connections! If you're comfortable with sharing your image with up to 6 other players, this idea promises to shake things up by offering a more immersive experience than ever before!
Shared Player Experience
Ezugi is quite familiar with live blackjack tables with a fairly robust twenty-one offer. However, innovation has never been the primary focus of this company, and it generally sticks to tried-and-true formulas. However, this idea has a chance of completely changing how we approach live dealer gambling.
Video Blackjack has the ability to show your own live video feed to other players and the dealer. It's a seven-seat blackjack table layout, offering a very genuine experience of playing blackjack at a brick-and-mortar casino. Just like at a Vegas table, you can see the other players, talk to them, and share their experiences of winning, losing, and everything in between.
Few other games these days attempt to tackle the social aspect of gaming in online casinos, but here we are.
About Video Blackjack
Only seven players are allowed to join the table, and one player can only take up one spot and play one hand. However, you have to allow the game access to your device's video and audio, both of which are then streamed only to the other people playing. Your image can be streamed in either landscape or portrait mode. This, in turn, means that no "back-seat" players are allowed. Video Blackjack cannot be simply observed, which also means others can't Bet Behind unless they're not playing. It's an interesting idea to be sure.
Beyond that, Video Blackjack is your typical 8-deck blackjack game. It relies on industry-standard rules and features the 21+3 and Perfect Pairs side bets. We'll be sure to give it a detailed game review as soon as possible!
For now, this is what Pang Goh, the Business Development Director at Ezugi, had to say:
"Our new Video Blackjack adds an extra-special social dimension to online Live Blackjack with its unique player-to-player video feature. Now online gaming can be even more like a visit to a real land-based casino. Players are able to share the excitement and suspense as they see and talk to other players and react to every deal and decision in the gameplay and, of course, to every winning hand!"