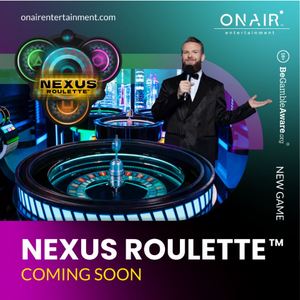 OnAir Entertainment, the live casino software provider working as part of the Games Global (Microgaming) network, has announced one of its most exciting projects to date. Slated to release in February 2023, this new game attempts to reimagine live roulette as we know it.
Nexus Roulette is a revolutionary idea that uses four wheels instead of one. The wheels don't just work as usual, though – they combine their results into special outcomes not available anywhere else!
3-Wheel Roulette Nexus
So how does any of this even work, you may be wondering?
It's simple once you get the hang of it. Essentially, there are four wheels in total – a single 'main' wheel and three supporting wheels. Instead of betting on where the ball will land once the dealer spins the wheel, you're predicting where all four will land.
Let's use the age-old favourite Red and Black bets. In classic roulette games, you're trying to guess whether the ball will land on a Red or Black socket.  However, in Nexus Roulette, you're hoping that at least 3 balls will land on your selected color. Better yet, if all four balls land in your predicted color, you win more!
Some of you may have noticed that this also means that your chances of winning are smaller. And you're right – two balls landing on the same color is a 50/50 shot, but three are a stretch. However, Nexus Roulette compensates by offering bigger and better payouts. Overall, this means that the game is significantly more volatile.
Roulette Innovation
We're particularly excited about this upcoming release because it's not something we've seen before. Granted, NetEnt attempted something similar in their Roulette Max game, but it never saw the light of day because of the whole Evolution takeover. We were afraid that the 4-wheel roulette idea would be flushed forever, which would have been a real shame. These days, non-standard roulette wheels often end up just being copies of Lightning Roulette. Not that we don't like that style – but we want to see something completely fresh and exciting.
Nexus Roulette by OnAir Entertainment will go live on all casinos with OnAir software sometime in February 2023. Until then, you can check out our Nexus Roulette review to find out all of the details we managed to dig up before the official release.