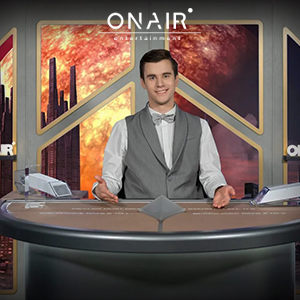 OnAir EntertainmentTM is launching Eclipse BlackjackTM, the thrilling new addition to its rapidly expanding portfolio. that enables an unlimited number of players.
What to Expect from the New Game
Eclipse BlackjackTM is an exciting, scalable variation of OnAir EntertainmentTM's classic Blackjack game. It will be available from 11th October this year. The new game allows an unlimited number of players to take a seat and enjoy this exhilarating online table game.
Alongside enhanced scalability players can place side bets in combination with the main bet. These include 21+3, Perfect Pairs, Lucky Lucky, Bluster Blackjack, and Royal Jacks. Operator clients can configure all side bets within the back office and differentiate their offering with their own digital branding.
Eclipse BlackjackTM allows players to place their bets on all side bets with one simple click by using the 'Place all side bets' button. Blackjack fans can also see real-time statistics made by other players to help them decide what action to take next.
Extending the Scope of Its Operations
Nare Grigoryan, Business Development Manager at OnAir EntertainmentTM, commented on the newest release. 
"We are constantly searching to enhance the player experience, and Eclipse BlackjackTM is another example where the product is going to exceed your expectations.
"We are delighted with the great outcome we have achieved thanks to the effort and commitment of everyone in our great OnAir EntertainmentTM team."
The Eclipse BlackjackTM product launch follows a wave of announcements for the rapidly growing premium live casino provider. This includes the recent launch of a suite of tailored table environments for Denmark and the Netherlands markets. It also follows the two new studios' announcements, in Romania and Georgia, in Q4 2022 and Q1 2023 respectively.