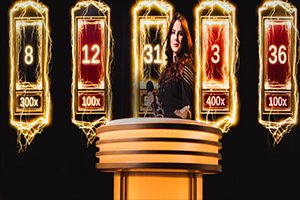 Launched in April 2018, Lightning Roulette is a highly exciting addition to the Evolution Gaming's portfolio. The game is based on the European version of Roulette combined with advanced RNG gameplay and offers extra chances to win. Thanks to Lucky Numbers and Lucky Payouts included in this Live Roulette variation, the game will provide you with a unique gaming experience. Lightning Roulette can be played by an unlimited number of players, so let's learn more about its basic rules and tips and tricks to beat the house.
Basic Rules and Gameplay
The Evolution Gaming's release uses the standard rules of European Roulette with a live dealer operating the game. A full range of Roulette bets is available and what sets this version of the game apart are extra chances to win. Between one and five Lucky Numbers are struck by lightning in each round and players can win multiplied payouts ranging between 50x and 500x.
The game starts with players placing their bets and once the stakes are accepted, a number of Lucky Numbers between 1 and 5 is generated at random. Besides, the RNG determines Lucky Numbers themselves and the value of Lucky Payouts. Each Lucky Number can pay between 50:1 and 500:1 and to win one of the Lucky Payouts you have to place a Straight Up bet on the Lucky Number. Straight Up bets with no multipliers pay 30:1 while other wagers function and pay the same way as in the standard version of the game.
How to Win at Lightning Roulette Table
Once you have learned how to play the game, you would probably like to know how to win at a Lightning Roulette table. Taking into account the basic rules and the fact that Lucky Payouts can be won only when playing Straight Up bets, you can consider betting on every single number. However, in the long run, it can get your bankroll drained given that multipliers are determined at random and can be as low as 50x which can only cover your total stake and earn you a bit over it.
Since a number of Lucky Numbers and numbers themselves along with a value of multipliers are randomly generated, you can easily figure out that this part of the game is based on pure luck. That's why it is better to keep an eye on your bankroll and play the game for fun without chasing Lucky Payouts especially not the maximum one of 500x as it can be highly destructive for your budget. Maybe the best advice comes from one of the dealers who said: "Place the bets and believe!"
Advantages and Disadvantages of Playing Live Lightning Roulette
Lightning Roulette looks impressive with gold accents resembling Art Deco style. Behind the dealer, you will see an electrifying backdrop with all numbers and the dealer will pull the lever to initiate the RNG. This is a highly exciting moment of the game packed with anticipation. Waiting to see the chosen numbers and multipliers may remind you of lottery-like games. Undeniably, a multiplier of 500x makes this game very attractive and unique as no other Roulette table can pay that much.
On the other hand, there are a few disadvantages you should bear in mind when joining a Lightning Roulette table. First of all, this version of the game pays less than standard Roulette tables when it comes to the Straight Up bet. While other Roulette tables pay 35:1 for a Straight Up bet, Lightning Roulette pays only 30:1. Multipliers of 50x and 100x are not worth risking while a 500x multiplier is not mind-blowing unless you hit it before you run out of money in your bankroll. Playing Lightning Roulette for fun can be an entertaining experience but avoid chasing big multipliers as their occurrence depends solely on luck.