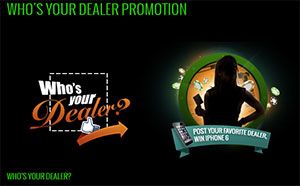 Everyone wants the latest iPhone 6, but they may not want to pay the high price. Now you can have a chance to win the latest iPhone! Win it at Celtic Casino with the "WHO'S YOUR DEALER" promotion! Starting on November 1 and running until January 31st, you have a chance to enter into this raffle to win a very new iPhone 6. All you have to do is post a screenshot of your favorite live dealer on your Twitter or Facebook account, or deposit €200 or more into your cash account on the casino – that is all! You can then be entered into the giveaway to win yourself one of these new phones that are sweeping the nation!
Every person is limited to one entry, and you should ensure that you're entry is correctly put into the raffle through by emailing the Promotions team of Celtic Casino after joining. Be able to be the first of your friends to have the iPhone 6 and get it totally free!
Not a member? No problem, you can sign up for a player's account right through their website. It is easy, and you can take advantage of some of their new player bonuses that are currently being given.
About Celtic Casino

Celtic Casino provides smooth graphics for each and every one of their players. The green theme provides a Celtic feel throughout the entire casino. With live games that you're able to take advantage of. Live dealers await you at each of the tables, so place your bet today.