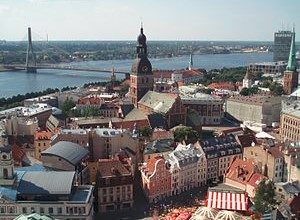 The world's largest live dealer casino studios now reside in Riga, the Latvian capital, after Playtech announced last week that they had finally finalized the industry's largest migration.
With dedicated Live Casino rooms placed on the top of the city's fortified 16th-century walls in Riga Old Town, occupying 8,500 square capacity site, the Playtech live casino is the biggest in the gaming business.
Riga Lead Line for Playtech
Playtech Live Casino still has studios in the Philippines, Belgium, Romania and Spain but the majority of its European live casino operations are now run out of Riga next-generation studio.
This mammoth project began in mid-2016 when this software developer purchased the site. Work of converting the facility into state-of-the-art streaming table game venues began immediately. Each licensee had specific requirements so each dedicated offering had to be carefully redeveloped and redesigned. The goal was not only to provide the most advanced and ultimate gaming experience within the Live Casino offerings but also to ensure their operations are future proofed and to them give flexibility to deliver many new and innovative products.
The first dedicated room was finished earlier this year and Sky Casino was first to migrate its operations to the new venue in April. The remaining Playtech licensees Coral, bet365, Ladbrokes and Paddy Power-Betfair have migrated and were fully operational in the following 12 weeks.
Since the launch of the new site, players quickly adopted the new, dedicated Live experience which resulted in significant increase in player traffic.
Next Generation Studios
Playtech's next generation studios feature only the latest technology including custom-made casino tables, new HD cameras for live-streaming, an advanced control and monitoring centre and large-scale dealer campus used to train and develop all of Playtech Live's dealers, croupiers and other staff. The latest software and hardware were used to present players with the new Live Casino experience, something that has never been seen before and that only Playtech could pull off.
This was indeed a carefully planned and meticulously executed plan since the core studio simultaneously maintained existing operations while every inch of the new site was carefully conceptualised, designed and developed to accommodate players with never-before-seen gaming experience.
With more than 5,000 employees in 17 countries, 140 licensees globally and as listed on the Main Market of the London Stock Exchange, Playtech really proved why it is the market leader in the gaming and financial trading industries.