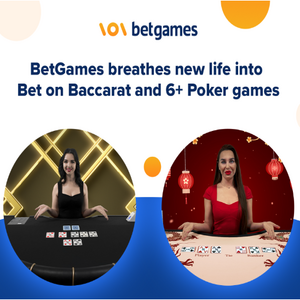 Betgames, a market leader in several niches of the live casino industry, has refreshed some of its acclaimed games by giving them a facelift! According to a recent press release, two games will from now on be streamed from new and improved studios.
New studio designs will be introduced to Bet on Baccarat and 6+ Poker in an effort to bring them in line with the company's new image and increased quality standards.
Kicking Off 2023 With Fresh Studios
The studio improvements are merely the latest in a long line of Betgames facelifts. It all started years ago with the company retouching their Lucky series of lottery games, which are largely seen as the provider's most successful titles.
Two more titles will see improvements in early 2023:
Bet On Baccarat will now be presented from a more modern studio adorned with red decorations. The new studio is styled in a vaguely Asian look, which is fairly common for live casino baccarat games.
6+ Poker instead goes with a flashy gold-and-black color palette and a more sophisticated look.
However, it's important to note that both of these changes are strictly visual. The rules, payouts, mechanics, and structure of the games themselves will stay the same.
New Year, New Look
As we glossed over above, these improvements are not a big surprise to anyone keeping up with live casino industry news. In fact, Betgames has been retouching its full line of gaming products ever since the entire brand got a visual upgrade a few years back. It went from Betgames.TV to simply Betgames, which mirrors the brand's growth in quality and recognizability.
Of course, improving 'old' games hasn't stopped BetGames from regularly coming up with new releases, either. Most recently, the company released Satta Matka, a new and unique addition to its portfolio based on Indian betting games.
Concerning the new improvements, Betgames Chief Product Officer Ian Catchick said:
"As a leading supplier we're always looking to give players the best possible casino experience, therefore we're delighted to announce the evolution of two of our most successful games. Bet on Baccarat and 6+ Poker are two of our most well-received titles and we believe fans will enjoy what's on offer in these new, refurbished and evolved versions."