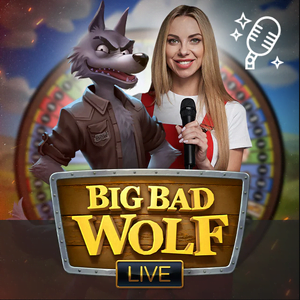 Playtech, one of the premier software providers in the live casino space, recently launched a new live casino slot game.
Leveraging the Big Bad Wolf brand from its subsidiary Quickspin, the game proposes an entirely new approach to bringing slot machines to live casino audiences.
What Is Big Bad Wolf Live?
Those of you who enjoy playing online slots are likely familiar with Quickspin – a major name in the world of online slots. Big Bad Wolf is one of their more successful IPs, and this latest Playtech live casino game aims to combine it with a live casino game show.
Live slots are a relatively new concept, but they're not entirely unseen. In fact, Playtech is one of the leading names of this emerging genre, bringing multiple such titles to their audiences. You can read more about it in our rundown of the concept of live slots.
As for the game itself, it does things differently from most of the competition. Instead of a shared slot machine experience, Big Bad Wolf Live is pretty much just a regular online slot game. You spin the reels and enjoy it at your own pace – until you hit the bonus round.
Win Massive Multipliers
The bonus round transports you to a wholly new setting – a live casino studio staffed by real dealers. The minigame itself consists of three rounds that award all participants stackable multipliers.
If you want to know more about Big Bad Wolf Live and how to play it, check out our review of the game.
Those of you interested in firing up the new title can find it right now on the William Hill Live Casino.
Otherwise, check out this article to find the best live casino slots online, along with recommended sites and bonuses to play with.