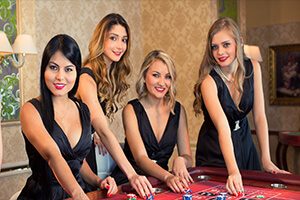 Live casino games are the latest trend in the online gaming industry. Thanks to them, a genuine casino atmosphere has come to our desktop and mobile devices. Without leaving the comfort of our home or even on the go, we can enjoy some real casino action and win big. However, no matter how realistic a gaming experience at live tables may be, this is still a solitary activity. By including the live chat functionality in live dealer games and adding a social element to them, providers have made them more appealing.
Introduction to Live Casino Chat
Live casino chat is a functionality which enables players chat with dealers and other players. Once you join a table to your liking, the dealer will greet you by calling the name you have entered. You can reply to the dealer through live chat. At some live tables, you are allowed to initiate a conversation with other players as well. Since this feature makes live casino games more social, it is good to know simple etiquette rules you should practice.
What is the most important thing to remember about this feature is that it is a channel of communication between real people. On one side, you have players and on the other side, there is a dealer performing their duties. Since we are all human with our emotions, every participant in the game has to mind their manners and act responsibly. Stay with us to learn what you should and should not do when using live casino chat.
Dos of Live Casino Chat
First of all, you should act as if the dealer and other players are in the same room with you. That simply means that you won't say anything you wouldn't say in person. The following is considered appropriate behaviour:
Once you are greeted by the dealer, it is recommended to say hello politely.
Respect the dealer and other players.
You are allowed to laugh and tell jokes as long as they are not impolite.
Remember that live chat is monitored and that someone will read what you have typed up.
Don'ts of Live Casino Chat
It turns out there are more don'ts than dos when it comes to using live casino chat. We don't say that people are innately bad, but sometimes they don't understand that there is a real person on the other side of the screen.
Don't be rude or pushy.
Don't blame the dealer for your losses.
Don't start conversations about sensitive issues that can hurt other participants' feelings or make them feel awkward.
Don't use live casino chat as a channel to get to the customer support team.
Don't try to seduce the dealer.
Don't reveal your personal details; they can be misused by other players at the table.
Closing Thoughts
Although you use a nickname when chatting at a live dealer table, you should still act responsibly. Use it as a channel of communication and don't hurt other people participating in the conversation. Just follow the list of dos and don'ts given above and have a good time while playing your favourite games and chatting with the dealer and other players. What you should keep in mind is that no matter how entertaining chatting with other participants may be, you should always stay focused on the gameplay. After all, live dealer games are played with real money and you don't want anything to distract you from making the right decisions.
Visit some of the best live casinos, play the games to your liking and don't forget to say hello to the dealer hosting the table!