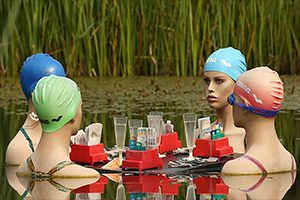 Live Tables are an excellent opportunity to change your gambling dynamics and get a taste of land-based casino action as well as a glimpse of luxury resorts. If you have grown accustomed to playing digital versions of the card and table games and have no Live Dealer table experience or knowledge of casino etiquette, you might find it difficult to keep focus and concentrate on your gameplay. However, there are a few simple tricks that will make the transition easy, enabling you to remain clear-headed and get the most out of your time at the Live Table.
Hide Other People's Chat
Numerous Live Dealer software developers include the Live Chat option on the gaming platform, establishing a communication channel between the dealer and the player. While this can be a helpful tool in getting professional assistance and maintaining a friendly atmosphere, IM from other players at the Live Table can be extremely annoying and break your concentration.
The developers have predicted that not all those who join the table will be interested in socializing, which is why there's an option of hiding the conversation of other players or remove the chat box completely, thus preventing unwanted interruptions. In case you would like to use it, it can be retrieved with no more than a single click.
Mute the Background Noise
Piano music and casino noise can often be overheard when launching a Live Casino and joining the table, and although this is an inevitable part of live studio or a brick and mortar stream, it can definitely be overwhelming and even irritating when you are trying to think about your next move or plan your bets. This is why you will be able to mute the background noise and/or the dealer's voice – playing in silence will help you focus on your strategy and all the information you need will be displayed on the game screen anyway.
Choose Silent Tables
Some developers have really gone that extra mile to make your Live Dealer table experience as pleasant as possible and reduce the stress amount caused by the unavoidable commotion around the table. For those who are not that interested in the social aspect of gambling and prefer to spend their session in silence thinking about the mathematics or chance behind the game, silent tables are haven-sent.
Not even the dealer will speak at the silent tables, except when absolutely necessary, and you can count on a peaceful session with emphasis on the actual game and the strategy.
Avoid Games That Tend to Provoke a Lot of Hype
There are games that are too dynamic to be played in silence, and unless your whole purpose of visiting a Live Casino is playing Craps, you might want to find a different option. If, however, you are not willing to make compromises, you can always go for a lighter version and play a studio streamed dice game rather than the one streamed from the casino resort. Also, you may want to consider switching to the standard Blackjack table and avoid playing at Blackjack Party tables or similar variations, where everything is about the noise and having loads of loud fun.
Go for the Private Tables – If You Can Afford Them
Private tables may have higher limits that your average Live Dealer tables, but proficient players wouldn't dream of playing anywhere else. Profound knowledge of etiquette, rules and casino mannerism will not be deficient in the private areas, but if you are on a budget and cannot afford the table limits (which is the price you pay for the privilege of privacy), the next best thing is opting for a table with a limited seating arrangement and without Bet Behind option – this way you will reduce chances of interaction and turmoil.