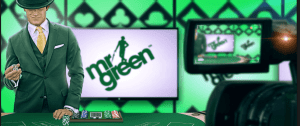 Everybody likes Happy Hours! The ever-generous Mr Green is well aware of the fact that Happy Hours are extremely popular, which is probably why he decided to organise Happy Hours for 6 straight hours every single day until 31st May at his Live Exclusive Blackjack Tables! Now, you can enjoy yourselves while sipping cocktails and playing Blackjack and Mr Green will throw in a cash reward every now and then. 
This is how it works: all you need to do is sit down at one of the Exclusive Blackjack Tables and enjoy yourselves. Every single time you draw a Gold Card, Mr Green will throw you back €10, no strings attached! 
Of course, you will have to draw a Golden Card during the Happy Hours in order to get the prize, but we are sure you already knew that. Click here and visit Mr Green this instance and get your seat at one of the Exclusive Blackjack Tables fast, because there are plenty of other players waiting for Happy Hours to begin!