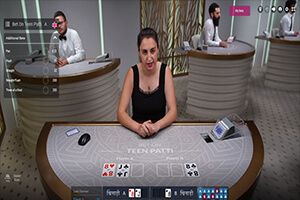 Teen Patti is one of the specialty games you can find at live casinos. Originating from India, this is a card game popular with players from this Asian country. Thanks to technology advancements, today people around the world can enjoy Teen Patti at live dealer tables and feel the genuine casino atmosphere. The game's name stands for 3 cards and the game itself can be explained as a simplified 3-card Poker. In this article, we bring you a strategy and tips that can help you beat the game of Teen Patti.
Teen Patti Basics
Teen Patti uses a single deck with 52 cards and no jokers. A round of Teen Patti starts with the players (there are two of them) placing their bets. The dealer then deals cards to the player A and player B. Each player receives up to 3 cards. Players can play blind or play seen, meaning that they will take a look at their hand before placing a bet or to leave the cards face-down, respectively. So-called blind players can see their cards whenever they want, which will turn them into so-called seen players.
What makes Teen Patti more complex than other similar games is the fact that you can play the game as a blind or a seen player. What's more, the stake at which you will play the game depends on a few factors, like how much the player who placed their bet before you has wagered. Also, the current stake size depends on whether you are a blind or a seen player. We won't discuss all the possible scenarios in this article. Instead, we bring you a strategy you should rely on when playing Teen Patti.
Teen Patti Strategy
When playing Teen Patti, it's all about choosing whether you will play as a blind or a seen player. If you opt for playing blind, you will not see your cards. That practically means that you will place your bet based on your gut feeling. In this case, you should place smaller bets. This is an option when you know that the seen player has a weak hand and that they will fold. As you can see, when playing blind, you should rely on luck, which is the main reason why you need to keep your wagers low.
Another option is so-called playing chaal. When you opt for it, you choose to see your cards any time you want to place a bet based on the cards you have checked out. If you believe that you have a strong hand or that you can bluff another player and make them fold, playing chaal is the perfect option.
Asking for sideshow is an option you can make use of if you have seen your cards. Place a bet and ask for sideshow with the seen player placing the last bet. This move allows you to see their cards. Use this option when you are confident enough that you have a stronger hand.
Finally, pack or fold is a move you make when you want to give up on the round. If you pack or fold, you lose all the bets you have placed. If you believe that your hand is really weak, go for this option.
Helpful Tips & Tricks
When playing Teen Patti, you should wager smaller amounts as such a playing style will enable you to play more hands. Try to identify the pattern and guess your opponent's cards. Some experts say that it is important not to bet immediately with a strong hand and not to pack first with a weak hand. The general rule of thumb would be not to play the game without studying its rules. This particularly applies to the live dealer version of the game since it can be played in real money only.
Click here to visit 1xBet and give Betconstruct Live Bet on Teen Patti a try!