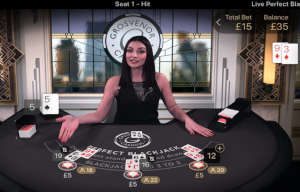 The leading online gaming provider, NetEnt, has expanded its Live portfolio with the newest title, Perfect Blackjack.
Aiming to transform this traditional table game, they have taken all types of players into consideration.
Innovative and Player-friendly Features
Perfect Roulette is the first blackjack variant to employ a live dealer Autoplay function. This addition enhances the speed of the gameplay.
This version is the first version on the market to allow punters to watch and learn a perfect blackjack strategy.
Experienced or not, punters will be dealt an ideal hand. Before each hand, players will be presented with a range of new options. They will be able to pre-select their next move by choosing if they want to auto-split or double down.
Apart from auto-splitting and doubling down, another great feature is multi-seats up to 3 boxes. One player can use all 3 spots at the NetEnt's blackjack table at the same time.
Additionally, side bets such as 21+3 and perfect pair are featured, too.
Will It Live Up to Its Name?
As its name suggests, this brand-new live casino game seems to really be perfect, since it offers high return-to-player (RTP) of 99.5%, with the house edge cut down to only 0.5 percent.
"Launching Perfect Blackjack onto the full NetEnt Live customer network means that players with all our live casino partners will be able to be introduced to and enjoy the benefits of the optimal strategy. Beyond that, this is an innovative game that brings something truly different to the live casino market and we have seen that it's an entertaining and popular product,"
It will attract all types of punters – whether you are an experienced gamer wanting to relax while being dealt the card smoothly or if you are a novice who wants an introduction to blackjack game and its strategy." commented Andres Rengifo, the director of NetEnt Live.