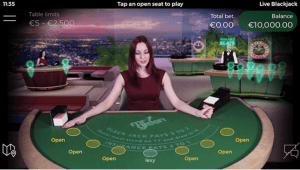 The end of April will bring a special treat for Blackjack fans, especially those who prefer to enjoy their favourite games on handheld gadgets. So, if you are a mobile player, then this will be a perfect offer for you. Better warm up your fingertips and be prepared to act quickly, because the Live Beyond Live promotion will start on 26th April and will last only until 30th April. 
Start playing Blackjack and for every Blackjack hand received, the ever-generous Mr Green will throw you back a €5 cash bonus. Remember that you can get a maximum of three cash bonuses per day, so you can win up to €15 in a single day, up to €75 in total during the promotional period! 
Note that there are no wagering requirements and that the bonus will be paid out the next day. The Live Beyond Live promotion can be used only on Blackjack 1 and Blackjack 2 tables and remember the most important fact – it is intended for mobile players only! Click here and create an account with Mr Green if you want to test your luck at Blackjack tables and win up to €75.