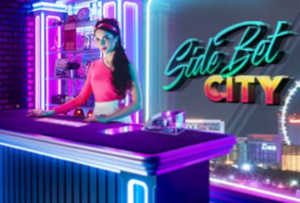 Are you ready for some Vegas fun?
Become one of the first players to experience the 1985 Las Vegas in LeoVegas' exclusive new game Side Bet City for a chance to win an actual trip to Las Vegas!
You heard right, LeoVegas is taking you to the center of all casino fun, as a part of new promo deal, simply for being a loyal player!
How to Apply for a Chance to Win
To participate, all you have to do is tick the "Yes" box under the Communications section on your LeoVegas account. After that, choose Side Bet Game and start playing for real money. Every time you deposit €50 the chances of winning the exclusive Vegas trip!
And who else to design the slot but Evolution Gaming – the Riga-based legend of live casino games! This brand new game is set to launch it waits for you to join the table. You have a chance to be one of the first players to experience this poker-themed slot with payouts of up to 1,000 to 1, set in the 1985!
Let's just say that the game will not leave you indifferent. The neon lights, retro stations and old-time diners with dealers dressed to fit the time, will make you feel as if you're really there. And the best part is: you can be!
Remember, tick the "Yes" box under the Communications section and you can win two seats for you and a friend!
The trip package includes:
Return flights for two
5 nights at the 5-star luxury resort hotel near the Las Vegas Strip
Limo airport transfer in Las Vegas
Grand Canyon
Michelin star restaurant dinner
Tickets to a large Las Vegas resident show
Even if You Lose You Can Still Win!
And if you don't win the big reward, there are others you can collect. The rest of the champions will share a reward of €15,000! The second best player will get €2,000, while the lowest prize of €20 will go to the 20th player on the list.
Secure your seat on the plane by securing your seat at the table at LeoVegas!