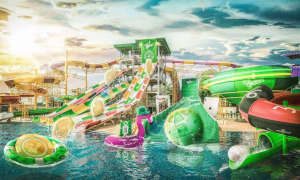 Things are definitely heating up!
But don't worry about handling the heat, Mr Green has your back. The next few weekends are reserved for fun as the premium operatorconcocted a couple of offers that are perfect for cooling off.
Get ready for take-off with Live Roulette and Blackjackwith three 3-day weekend events in June!
The Summer Bash
The bash started with Blackjack on a Loop, but this weekend you'll looking at a BIG Splash! After that, there will be two more special 3-day events that conclude on July the 1st. We know you're anxious to hear more, so without further ado, let's get right to it.
Splashing Blackjack
Grab a seat at the designated tables for this weekend and collect as many cards as you can. The goal is to complete a set of 3 identical cards and win cash prizes! There are three types of cards that you can amass: ties, umbrellas, and bowler hats. Depending on which set you complete, you'll get €30, €50, or even €200 in cash.
The event lasts from 14th June (19:00 CEST) to 17th June (1:59 CEST).
Here is the schedule and chosen games:
Friday 14th: from 19:00 to 2:00 CEST – Blackjack Table 3
Saturday 15th: from 14:00 to 2:00 CEST – Blackjack Table 4
Sunday 16th: from 13:00 to 2:00 CEST – Blackjack Table 1
Roulette Plunge
From 21st to 23rd of June, even losing in Roulette will be rewarded! If the ball lands on the zero and you lose, Mr Green will refund your highest stake!
However, bear in mind that this refers only to Evolution Roulette Table 1, so just this table will be taken into consideration. To qualify, you'll need to place a minimum bet of €10.
CASH CARD Rapids
And finally, the last weekend in June is reserved for live Blackjack again. A total of 142 valuable Cash Cards will be dispersed and potentially dealt. If you're lucky, you will get a prize from €10 to €50!  The chosen tables are the same tables that we have this week, while promotions start at 13:00 CEST (Friday offer starts at 19:00).
Don't miss your chance to win sizzling prizes – head to Mr Green now!