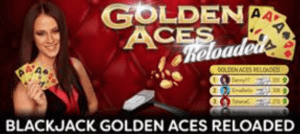 Extreme Gaming decided to treat their loyal customers with a pair of fantastic Live Dealer promotions, both offering some sweet cash prizes. Every Blackjack fan will be pleased to know that the Golden Aces Blackjack Reloaded challenge will once again be active, starting from 23rd October. Five players will go home with a share of €2,500.
The challenge will take place at the 5 Euro table and the VIP 25 Euro table, from 23rd to 27th October. Your main task will be to collect Aces and Blackjack hands, because for every Ace you will be rewarded with 10 points, while the Blackjack hand will get you 15 points. The system will track your progress automatically, and if you finish in the top 5 on the leaderboard, you will get your share of the reward.
The winner will go home with €1,000, second-best will receive €700, the prize for the third place is €500, the one who finishes fourth will win €200, while the fifth player on the leaderboard will pocket €100. Don't miss out the opportunity to win bigger than ever on the world's No. 1 Live Casino card game!
The second promotion offered by Extreme Gaming is called Golden Ball Tournament – Halloween. It is a well-known fact that Live Roulette is always a thriller, but this time it's a killer, since gamers can win smashing prizes of up to €250!
Play the Live Roulette and collect Golden Balls, since each of the Golden Balls collected will secure you a tremendous 10 points on the leaderboard! Get as many points as you can in order to finish in the top three positions. The first prize is set at €250, the second prize is €150, while the third prize is €100! Join the action from 28th to 31st October, win up to €250 and have a howlingly happy Halloween!