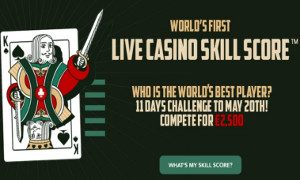 Live casino operator Codeta has launched a new gamification feature dubbed Skill Score, that will rank users on their wins with a multiplier where the quality of performance is valued.
Skill Score Feature
Betting Group Codeta launched the feature to allow players to be ranked on leaderboard for games such as blackjack and to be able to compare to other players.
The feature in fact serves as a leaderboard for players and each player is ranked based on the gameplay they took part in the company's live dealer platform. The Win/Loss ratio and summarized earned payout ratios will be placed on the leaderboard and players would be able to work on improving one ratio over the other or improve balance with the expertise tips provided by the company.
A player's Skill Score is therefore determined by two factors mentioned above. The first one, the ability to win big is named "big wins" and the other, the ability to keep winning over time, is named "dedicated wins".
Better Player Engagement
This will lead to better engagement of players and communicating with them on a regular basis.
If they perform worse in blackjack than on roulette, the company can send them tutorials on how to improve their game in their weaker field. This new feature will definitely push Codeta in front of their rivals since they add value to their players. Edward Ihre, Codete Co-Founder thinks the feature will be a huge success.
"Our brand promise is to capture the skill and thrill of table games, and Skill ScoreTM is just one way we are able to offer this. Skill development is a big part of why players engage with live table games, and Skill ScoreTM enables them to keep track of their progress while also competing with other players."
Skill Score is now available at casinos that feature Codeta software.
In the future, we expect Codeta to run tournaments and promotions around the new feature, with the highest-ranked players winning a raft of prizes.