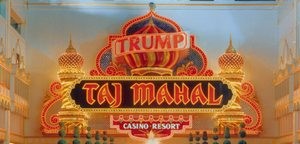 After filing a suit against Trump Entertainment Resorts to remove the Trump name off the two casinos: Trump Plaza and Trump Taj Mahal, Donald Trump and his daughter Ivanka have reached an agreement with billionaire investor Carl Icahn to keep the name on the Taj Mahal Casino which the billionaire intends to save.
Damaging the Brand
Even though Donald Trump still holds 10 percent share in Trump Entertainment Resorts, he and his daughter claim that they were in no way connected to the operation of the casinos in years. What is more, after the Trump Plaza was closed, Donald Trump sued the Trump Entertainment Resorts to remove the Trump name from both casinos within the resort. The name was initially removed from the closed Plaza Casino but it could still be found scattered in the ruins of the buiding. The Trumps claim that it is detrimental to the reputation of their brand which is why they filed a lawsuit. However, earlier this week billionaire Icahn has managed to reach an agreement with the Trumps to keep the name on the Taj Mahal Casino, in which he invested to save it from bankruptcy. Both the billionaire and Donald Trump have expressed deep respect towards each other and satisfaction about the agreement. According to Ivanka Trump, they have settled under the condition that the Trumps have the right to monitor if the casino is operating according to the standards of their brand. Also, they hold the right to strip their name off the casino, in case it stops working for more than three months.
The Billionaire Saves the Day
According to the Wall Street Journal the Treasury Department regulators, have found Trump Taj Mahal Casino to have committed many violations of anti-money-laundering program that was in place. The regulators concluded that the internal control system was inadequate and that the casino did not implement security measures to keep track of suspicious activity. This is not the first time the casino has failed to report suspicious activity. Consequently, the Trump Taj Mahal was about to be closed down, but the casino owner agreed to pay $10 million civil money penalty and subject the casino operation to an external review of compliance with anti-money-laundering regulations. Carl Ichan has invested $20 million to save Trump Taj Mahal Casino from bankruptcy.