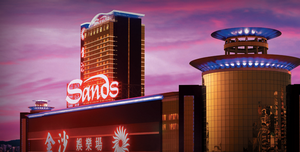 Las Vegas Sands Corporation has won a lawsuit against 35 unidentified infringers who used LSV's trademark logo, name and images without permission on their online gambling websites. Sheldon Adelson, the Chairman and CEO of the Las Vegas Sands Corporation filed a lawsuit in June last year against websites in Chinese that were abusing his trademark in order to attract people to online games they provided.
Isn't It Ironic?
This story gets a new twist when you know that Sheldon Adelson is one of the great opponents of online gambling and he is devoted to eliminate it. Some may find it even amusing that these websites used LSV logo, name and images of their Marina Bay Sands resort in Singapore to attract people to play online games such as Roulette, Blackjack, Texas Hold 'Em and many other. Nevertheless, trademark infringement is a serious matter, especially because it casts a shadow on the safety of online players and it certainly should be dealt with. There is the question of players who had accounts on these websites and whether their money is now lost.
Who Will Pay?
The Corporation claimed in their lawsuit that compensatory damages would not be enough since as they stated "as a result of the Defendants' blatant exploitation of Las Vegas Sands Corp.'s trademarks without Las Vegas Sands Corp.'s consent, Las Vegas Sands Corp. has lost control over the SANDS Mark. This loss of control over its goodwill and reputation is irreparable…" And finally, last week, the outcome did go to their favor. US District Judge James Mahan ruled that defendants shall pay $2 million and issued a permanent injunction against the sites. However, Sands probably won't get to see that money, since the owners of the websites have provided themselves with privacy protection services and therefore cannot be identified.
Not that LSV Corporation needs the money as it is one of the largest convention-based casino operators that operates and manages casino gaming operations, resort hotel facilities and riverboat casinos. According to the Forbes website the company principal operating and developmental activities are geographically classified into three areas: Macau, Singapore and U.S