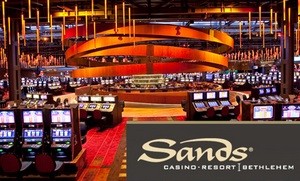 Sands Casino Resort Bethlehem located in Pennsylvania are aiming to expand their offer of games by adding a live dealer option through electronic tables that are supposed to be added to the gaming floor of the resort. However, this multimillion dollar investment first has to be approved by Pennsylvania Gaming Commission.
Turning a Bar Into a Live Dealer Stadium
According to the casino officials and their presentation made to the Pennsylvania Gaming Commission they decided to transform the area currently occupied by the bar into the stadium for Live Dealer Electronic Tables. They deemed that this area of the casino is not used to its full capacity. However, this does not mean that there will be less slot machines or table games, instead they will just be moved. The new gambling stadium will add four to eight dealer tables and 150 betting terminals. The Sands Casino Resort officials pointed out in their presentation that this new project will bring new work places as well. They will hire around 50 people on the positions of dealers, service technicians, supervisors and other staff.
More Convenience for the Players
The new Live Dealer Stadium will come as an added convenience for the players for numerous reasons. The players will enjoy full experience as if they were actually sitting at a table. The dealers will deal cards as they usually do; only the bets and eventual winnings will be processed through the electronic terminal. The players will be able to pick the table which appeals to them as the luckiest one, as they will be able to follow the action on all available tables at the same time. According to Sands Bethlehem Director of Table Games, Jack Kennedy gamblers will be able to make multiple bets, up to four games at the same time and the machines will provide assistance at any time, through the tutorial which will be available in different languages. The biggest benefit for the gamblers will be the lowered minimum bet and the action will go on pretty much faster as the hassle of buying the chips and cashing out will be avoided.
Sands President Mark Juliano hopes that "the addition of the live dealer electronic games will give Sands Bethlehem an edge in gaming offerings and provide a great marketing opportunity."