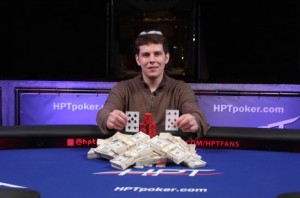 Have you ever wondered what would it be like to play a game for a living? Is something like that actually possible? Jewish poker pro, Ari Engel proves that not only is it possible to earn your living by playing poker, but it can earn you millions. It does require dedication, though. Ari Engel is one of the world's best poker players, who has earned millions in the last ten year or so only by playing poker.
Getting to Know Poker
He was born in Toronto as a son of a rabbi and during his early life moved with his family all over the world, finished high school in Chicago and college in New York. According to his own words, there was nothing special about him in his childhood that would signal a poker star. He was not too good at maths, or psychology and being a son of a rabbi, poker was definitely not an ambition that his upbringing would suggest. Yet, life has its own ways. In college his roommate was one of the best online players and that's how Engel made his first step into the poker world. First he learned the basics and started playing online poker at low stakes, only to find about Bodog where he started earning real money.
Full-time Poker
After finishing college, at the age of 21, Engels got a job, but continued playing online poker whenever he could. Soon afterwards he realized that poker is what he really wants to do all the time and decided to give up his job and start playing poker full time. This turned out to be more than lucrative. According to Bluff magazine he has earned over $1 million in live tournaments. He even opened a poker training centre where he taught people how to play. To him poker is about creativity and thinking out of the box. Engel explains that he is very lucky to be able to play poker for a living. It does require a lot of dedication and a hectic life style (he has been living in hotels, travelling from tournament to tournament) but he enjoys being on the move.
Check out tips for playing poker by Ari Engel and then check out our List of Reviewed Live 3-Card Poker Casinos & Games and who knows maybe you'll be the next poker star.