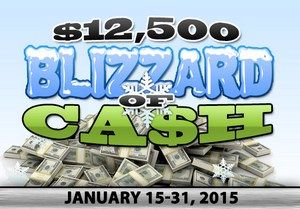 Prepare, because tomorrow new online slot tournament, Blizzard of Cash, is about to begin at Omni Casino. A great way for all slot lovers to start the year and probably win some money because Omni Casino offers plenty of opportunities to win in the prize pool of $12,500. The tournament is set to start on January 15 and it will run until the end of the month, that is, it closes on January 31.
Just Wager
The rules of participation are easy – all you need to do is start playing any of the slot games at Omni Casino and there is a wide range including Marvel slots, The Sopranos, Pink Panther and many more. Slot games available for wagering are powered by Playtech and they offer a choice between 15 and 40 pay lines. By wagering at least 0.45 dollars, pounds or euros you get one tournament spin point. Spin points are collected throughout the tournament and players are ranked on leader boards by the number of spin points. Leader board is divided in three boards (low rollers, mid-rollers and high rollers) depending on the average wager. The higher the wager, the bigger the pool prize. A leader board will be posted Each Monday, Wednesday and Friday leader boards will be posted in the casino lobby and at the tournament webpage (except the 30th). Detailed description of leader boards is given on Omni Casino official website.
Everyone Wins
To juice it up Omni Casino set up a special set of prizes, which will be awarded throughout the tournament. $60.00 Snow Shovel Prize which will be awarded after the update of leader boards and the players that land on special ranking positions will be the lucky winners. The updates will be announced on January 19, followed by updates on January 21, 23, 26 and 28. The good thing is that there is no limitation in the number of times one player can win a Snow Shovel Prize. Next are prizes for big players. Those who can earn more than 115,000 spin points or more during the tournament, will be the lucky winners of extra $250 and if you are so lucky to finish the tournament with over 130,000 spin points, a prize booster of $500 will be smiling at you.
And there's more, those who are not yet registered at Omni Casino, when opening an account get a $/€/£100 welcome bonus. What are you waiting for?