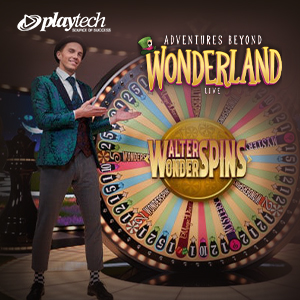 Leading live games provider, Playtech, adds a new bonus round to its popular release, Adventures Beyond Wonderland game show. The new bonus round, Walterspins, delivers two spins of the bonus wheel with boosted multipliers.
New Bonus Round
The game has been a part of Playtech's portfolio since 2020 has received a makeover with a new bonus round added to the game. Walterspins carry the name after Walter, the blue caterpillar from the popular novel. During the bonus round, players will find this character sitting on the right side of the big wheel.
In order to make room for the new bonus round, one of the number one segments has been replaced by 2 Walterspins segments. Once the wheel lands on one of these two segments, the bonus round begins. The wheel that this round uses is the same wheel from the Wonderspins round.
This is a 54-segment wheel containing characters from the Adventures of Wonderland, with each assigned a base multiplier value. Players can also see from the Eat Me & Drink me segments which increase or decrease the multiplier values of the characters, while a No Win segment is pretty self-explanatory.
Walterspins
Once you trigger the round, Walter will blow four bubbles containing hidden multipliers – 1x, 2x, 3x, 4x, 5x, 10x. You have to pick one bubble that, when it pops, shows a multiplier. This multiplier value is applied to all of the characters on the bonus wheel.
You get two spins on the bonus wheel. At the beginning of each spin, the inner wheel spins, selecting either a multiplier value to one of the characters on the outer wheel or an extra spin. If you get a multiplier, Walter blows another bubble, revealing the character that will receive the extra multiplier.
However, if you get an extra spin, the inner wheel is spun again until a multiplier is selected. The bonus wheel spins and the multiplier is added to your total prize pool whenever it stops. At the end of the bonus round, the multiplier value is paid out as your winnings. Remember, your original bet is not returned.