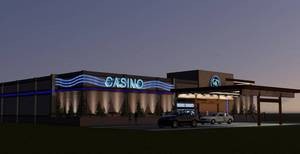 A new Oregon Casino operated by The Confederated Tribes of Coos, Lower Umpqua and Siuslaw Indians is set to open on May 7 this year at Coos Bay. It will be named Three Rivers Casino Coos Bay, same as the casino that the tribe runs in Florence, Oregon. According to the tribe officials this casino will target local people and its offer will be created accordingly.
Class II Casino
The new casino spreads on 15 000 square feet on the tribal land which was predicted for the construction of a casino and now finally the 5-million investment has seen its realization. It will provide employment for around 100 people, which is more than they initially planned. Three Rivers Casino Coos Bay was designed by Thalden Boyd Emery Architects. Unlike the existing Oregon Casino owned by the tribe, Three Rivers Casino and Hotel in Florence, which is a Class III facility, the younger namesake will fall under Class II under the Indian Gaming Regulatory Act of 1988. This means that Class III gaming facilities, can include games like blackjack, craps and roulette, but they need a compact with the state, whereas Class II gaming facilities are regulated by the tribal gaming commissions themselves, but they do not offer table games.
A Place "Where Everybody Knows Your Name"
The Confederated Tribes of Coos, Lower Umpqua and Siuslaw Indians decided to build a casino orientated towards local people as 80% of the customers are expected to be local and, therefore, they did not intend to make it a tourist attraction in the first place. Instead they aim to create a place in the neighborhood where people can come to relax after work or on any ordinary night out. It will offer 250 new games and one simple restaurant which they compared to the famous "Cheers" bar from the TV series. As the former chairman of the tribe Bob Garcia explained: "We're trying to aim for that Cheers neighborhood bar, because most of the folks here are going to Coos Bay local and are not going to be coming from Portland very often. Folks from Portland are certainly welcome, but you've got to find your way over here so it means you really need to listen to your guest and make sure you do the best you can to meet their needs."
The Three Rivers Casino Coos Bay will not be alone out there, though. There are many other Indian casinos within close range and they pose a competition for the newbie. Nevertheless, the tribe officials are not worried about this. According to Garcia the competition will only motivate them to be better and the numerous feasibility studies have shown that the market is big enough for all of them.