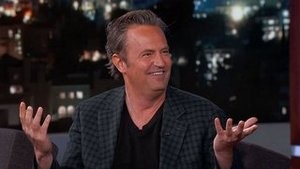 Last week Friends star was caught in action in early morning hours at a table of Commerce Casino. Matthew Perry was reported to have lost tens of thousands of dollars playing three-card poker at 6 am. Judging by the photos published in TMZ magazine, the actor seemed as if he had spent all night at a poker table. But he did not want to leave it at that so he gave his version of the story in Jimmy Kimmel's Live Show.
As Perry explained, he did not spend the whole night at casino in spite of what images might suggest. He admits that "it's not the best he's ever looked" and added: "For some reason at five o'clock in the morning my eyes just pop open… At 5 o'clock in the morning, I am awake, so I figured, there won't be any traffic, there won't be anybody in the casino, I'll go, and I'll gamble for a little bit…" Perry explains that it seemed like a good idea to pass some time at a casino in the early morning hours, but he didn't expect anyone to take a photo of him.
To add fuel to the fire, the popular magazine also reported his losses which counted tens of thousands of dollars. To his defense, the actor said in the same show that couple of days later he went back at a reasonable hour and won a lot of money.
Perry, whom we remember best as Chandler of the Friends show, is known to enjoy playing poker and he is a regular at charity events and poker tournaments. There were even rumors about him developing an addiction to online gambling after the famous sit-com ended.
These days he is working on a new sit-com, The Odd Couple, based on the 1968 movie.
Celebrities and gambling
Matthew Perry is not the only celebrity with passion and occasional problems with gambling. His colleagues George Clooney and Matt Damon became close to professional players after filming movies such as Ocean's 11 and Rounders. Ben Affleck is another actor keen on poker. Throughout his poker playing background he has won huge amounts of money but the game got to him, as he had to check in rehab because of his gambling addiction. Gambling has also taken its toll on other celebrities such as Toby Maguire, Ray Romano, Jeniffer Tilly, Tiger Woods, and many more.