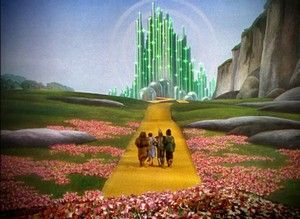 Famous story will soon become a setting for a gambling wonderland. A Wizard of Oz themed casino is about to be opened precisely in the place where the author L. Frank Baum of the famous book was born, the Village of Chittenango, New York.
The Oneida Indian Nation, who already own a famous casino, Turning Stone Resort Casino in Verona, plan to launch another one in spring 2015. Thanks to the fact that their casinos are built on reservation land, the Oneida do not need federal permission for building them, but in exchange the state and local governments are entitled to their 25 percent of the revenue.
As a tribute to the famous local author, it will be called The Yellow Brick Road Casino and it will take up 67 000 square feet. Unlike the major New York casino attraction Turning Stone Resort Casino, the newly-opened casino will be somewhat of a smaller-scale cousin. The big brother hosts over 100 table games such as blackjack baccarat, roulette…Their guests can also try out their luck on more than 2000 slot machines and a poker room.
This top-class resort is the perfect place for those who like to be spoiled by the full treatment. It offers luxurious hotels, restaurants, golf courses, exciting nightlife and spa treatments to recover from all the craziness and then start all over again.
Contrary to this, the "Oz" casino will be geared slightly more towards ordinary people who just want to have some fun, maybe earn some money and have quick snack or drink along the way. The main target are visitors and locals who will have at their disposal 500 seats in the bingo hall and offer over 400 slot machines for everyone's entertainment.
When they are done playing or just want to have a break, there will be a variety of fast food snacks typical of New York (pizza, burgers, hot-dogs chicken wings, etc.), and also a general store and a bar where guests can have a drink and enjoy some local music band. A place for casual round of entertainment is coming up in spring.