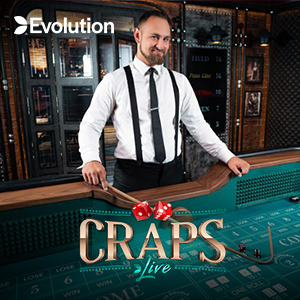 Good news for Michigan-based fans of live dealer casino games!
Evolution, the leading provider of live casino software, recently announced that their acclaimed Live Craps game will be launched in Michigan. This is the second time an online Craps game will be available in a licensed US casino after a 2022 launch in Pennsylvania. (barring crypto casinos and similar legal grey areas.)
What Is Evolution Live Craps?
Evolution's Live Craps is pretty much the only way to play craps online with real dealers. The game was launched in 2020 and caused quite a stir – craps have long been missing from the live dealer vertical despite being a beloved casino classic. The fact that it will now be available in Michigan is especially exciting due to the game's popularity with American audiences.
The online game itself takes you to a speakeasy-style studio staffed by professional dealers. Of course, Evolution is widely known and acclaimed for its superb studio designs and top-notch presentation.
Most bets and features you would expect from an online craps game are present and accounted for, which will delight fans of this style of gaming.
How and Where to Play
If you want to know more about Evolution Live Craps, how it works, and where to find it, check out our detailed review of the game.
If you're new to the game, we highly recommend that you also check out our beginner's guide to craps. Even experienced craps players may want to take the time to brush up.
Once you're comfortable with the basic rules and game flow,  you should also take the time to learn about strategies for playing craps live online. While you're at it, you can also look up our general tips and advice, which you can find here.
Finally, if you need help finding a good casino in the US with live craps from Evolution, check out our list of the best online casinos in the US.