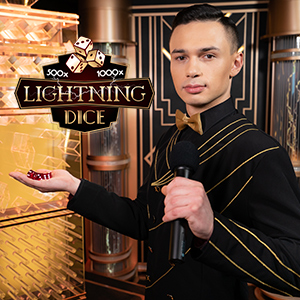 Evolution has announced their re-launch of Lightning Dice in the United States. The dice-based live casino game will be available for New Jersey players through Evolution's Atlantic City studio live stream.
What Is Lightning Dice?
Released back in 2018, Lightning Dice is a live casino game focusing on rolling dice and predicting outcomes for payouts. The player places their bet and the dealer rolls three standard six-sided dice through the 'Lightning Tower'. A camera close-up then follows the dice through a maze-like section and showcases the result. If the player guesses the results correctly, they win various payouts.
The game is part of Evolution's Lightning series and therefore features exciting multipliers. Random multipliers of up to 1000x can strike at any time to boost player winnings. The gameplay loop is simple but endlessly entertaining. The studio and user interface both feature electric visual and audio elements to immerse the audience.
The US version of Lightning Dice will be streamed from Evolution's luxurious Atlantic City studio
Evolution's Jeff Millar, the Chief Commercial Officer at Evolution North America had the following to say about the game:
"We're really excited to be expanding our Lightning family of games in North America with the launch of Lightning Dice in New Jersey. The Lightning family of games has achieved immense success across the Evolution network, as has Lightning Roulette since it launched in New Jersey in 2022. Lightning Dice adds even more choice and fun for both players and operators in the state and has the broadest possible appeal for all player types."