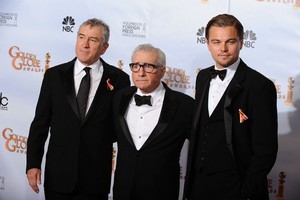 Newly opened Manila Casino, named City of Dreams, gathers three major stars in a $70 million marketing campaign. Martin Scorsese signed as the director of a short "movie" ad for the mentioned casino and his two favorite actors Leonardo Di Caprio and Robert De Niro star in this one-minute commercial titled "The Audition". This was James Packer's way to announce the grand opening of the casino which is scheduled for February.
We see the famous director welcoming Hollywood stars to, as he says it in the commercial, a fantastic and incredible place. We find out the purpose of their gathering when Di Caprio asks Scorsese: "Are we finally getting to work on a project together? Is that what's going on?" only to find out that they are supposed to compete for the same role under the bright lights of Manila Casino, City of Dreams.
Both actors feel eager to start this "fight". The dialogue continues in a, to say the least, predictable manner where Leonardo says : "I'm going to tell you something. I'm going to get this role." and his older colleague replies: "No, I'm going to get this part." Di Caprio continues this childlike argument by saying: "Oh no, you're not." and Robert De Niro returns in the same mood: "Oh yes, I am." Di Caprio has the last line: "We'll see about that." And that's all you need to do to get $15 million, if you are a Hollywood star, that is.
The commercial shows us only the glamorous interior of a luxurious casino, just to give us a hint of what a dreamy land it truly is. But don't expect to see famous actors playing or even passing by blackjack or baccarat tables. The ad seems as a teaser leaving you waiting for some real gambling action. Also, Brad Pitt is supposed to join this elite team in the next commercial so maybe we will see some casino action then. Until that time, enjoy "The Audition".
City of Dreams Manila, the $1.3-billion integrated casino and resort project is developed by Melco Crown (Philippines) Resorts Corporation, a joint venture of Macau casino giant Melco and SM-led Belle Corp. The grand opening is expected in February.