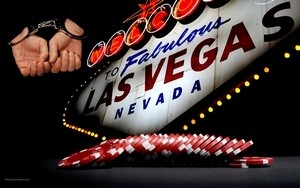 After two years on the run, a former employee of a Nevada Casino turned himself in. Dell Eugene Warfield, aged 24, decided to come clean about stealing $160,000 from the casino where he worked. As Las Vegas Review-Journal reports he is charged with burglary and theft and expected in court.
A Night at Work
Warfield committed the crime in 2013 at Primm Valley Resort and Casino in Stateline. He was an employee of the casino and he knew the code to the safe. Even though he was not supposed to work on the night of the crime, he came to work under the excuse that he was supposed to put some money in the safe. What he actually did was pretend to put a bag in the safe and took around $160,000. And he did it all in front of his colleague and video cameras. Later that night he sent text messages to his father and friend that he is leaving and that they will not see him again.
Turning In After Two Years on The Run
It is still unknown where he has been all this time, what he did with the stolen money or why he turned himself in. Nevertheless, charges of burglary and theft have been brought up against him and he will have to appear in court. Currently, he is being held in the Clark County Detention Center. According to the investigation there is solid evidence against Warfield. Apart from being captured on video surveillance camera, he also forged the signatures of his colleagues which were part of the procedure during cash drop. While doing this he entered the wrong identification number of one of the colleagues. But his carelessness doesn't end there. According to the police it can be seen on the surveillance video that "Warfield throws the bag used at the cage on the ground and exits with a full shopping bag." Judging from the epilogue of this story his plans for the future were as mindless as his plans for the future. Did he just spend the money and decide to come back? It remains to be heard.