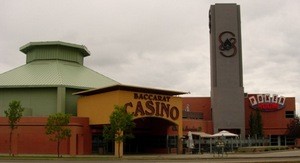 Baccarat Casino of Edmonton, the capital of Canadian province Alberta is being moved to a new and much more luxurious building. Often referred to as "the ugliest building" in the district, Baccarat Casino will now be replaced by a new Grand Villa Edmonton Casino on the northwest corner of 104 Avenue and 102 Street, which is expected to be finished in the summer of 2016. It is already under construction.
This Monday Gateway Casinos and Entertainment, the owners of mentioned Baccarat Casino have announced that they are planning to move it and build a more sophisticated replacement worth $32 million and thus boost the downtown district. The new casino will occupy 125,000 square feet and unlike the shabby predecessor it will erect to four floors and house the Katz Group and the Oilers Entertainment Group on the top floors. This exciting new venture is expected to also boost the gloomy economy of the district as it will create 200 new work places, and it will also provide employment for the existing 200 employees of the Baccarat Casino which will close when the upcoming Grand Villa Edmonton Casino opens.
The Grand Villa will offer something completely different to Edmonton. According to the CEO of Gateway, Tony Santo, it will be more than just a casino, as it is planned to offer varied content to its customers such as restaurants, bars, numerous events and a casino twice the size of the previous one. "It's much more of an entertainment space, this isn't just a casino like you would see in the Baccarat today that has one single snack bar, this is a place where people can go, have a good time, be entertained, and if you want to gamble you can do that too." said Santo and added that the Grand Villa has acquired the permission to expand the gaming area with more tables and slot machines, though the exact number is not yet familiar.
Another thing which is uncertain is what will happen with the land on which the existing casino sits. The city officials expect it to find its investor soon.
About Gateway Casino and Entertainment
Gateway Casinos and Entertainment is leading Canadian gaming operator which owns a number casinos in Alberta and British Columbia. They started in 1992 with two facilities and they slowly built their way to current prominent position in gaming industry. The company now has 3,000 employees and twelve casinos including Baccarat Casino in Edmonton which was built in 1996 for $2.2 million.