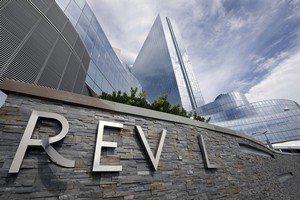 Ill-fated Atlantic City's Revel Casino might serve to a noble purpose of giving a shelter to Syrian refugees. Its owner Glen Straub who purchased the bankrupt casino for $82 million in April and has not managed to get it up and running since, now wants to use it to help others. Therefore he decided to offer it as a place to house Syrian refugees for some time, until he solves legal issues that are holding the casino back.
A High-class Shelter for the Refugees
According to Mr Straub's calculation he could provide shelter for around 3000 refugees in one part of his luxurious, but empty casino resort. He stated that he would allow the use of the Broadway Theatre which would be ideal as a reception and registering facility, as it has 5000 seats. The registered refugees would have a place to sleep in bunk beds in the conference room, but the hotel rooms would be out of reach. In addition, laundry facilities, dry cleaning, tailoring, kitchen and dining area would also be at disposal to Syrian refugees. They could stay in The Revel for 18 months during which time some institution should deal with them, most probably Red Cross. Straub stated that he expects government officials to respond to his offer and suggestion as in his opinion "We treat our dogs better than we treat the Syrians right now. If the government wanted to house Syrian refugees, I'd give them use of the building and let them put those people there." On the other hand The U.S. State Department's statement to CBS3 says: "We are not aware of Mr. Straub's intention to offer his casino to house refugees…We would be pleased to put Mr. Straub or any other concerned American in touch with their local resettlement agency, which can provide opportunities to assist refugees who are resettled in their communities."
A String of Bad Luck
Ever since it was opened the future did not seem bright for Atlantic City's Revel. After only two years of operation it went bankrupt, but soon Glen Straub fought to buy it and finally managed out of the fifth attempt to purchase this unlucky casino for $82 million. Despite Straub's hopes that this will be a new era for The Revel, not many days have passed until he suffered a power cut-off and faced a number of legal issues. In fact the Revel came in package with its debts and Straub was not willing to pay for them and as it seems he has not changed his mind to date. He has had many plans for revamping Atlantic City's casino, from an indoor water part to equestrian facility, but all of his plans are on hold until legal issues and debts are solved. Until then the casino remains empty.