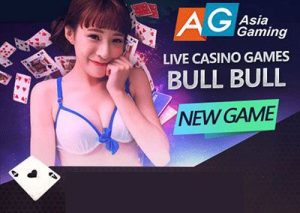 What is Bull Bull?
Bull Bull, aka Bullfight or Niu Niu is a simple card game often described as a Chinese version of Poker and played on live dealer tables in online casinos that adjust or focus their offer in the Asian market. The game is played with 6 standard card decks and the players are competing against the casino instead of each other.  
Bull Bull Rules
Each of the Bull Bull rounds will start when the dealer draws the first card from the shoe and presents it to the table players. This card will determine the order in which other cards will be dealt and the dealer will then proceed with drawing hands of 5 additional cards each, for the Player 1-2-3 and Banker 1-2-3. Before any of this is done, the bets are already placed on one of the betting options, with two side bets, Equal and Double. 
Once all the cards are dealt, the dealer will reveal the cards in the same order they were dealt, and the hands are compared and ranked. The bet with the highest ranked hand wins and receives a settlement according to the payout table. Some versions will allow the dealer to draw the cards face up, although dealing the cards face down is a much more popular method, adding an element of surprise and suspense to the game. 
Bull Bull Hand Ranking
Once dealt, the 5-card hand is split in two halves, a set if three and a set of two cards. The set of three cards is added up to the total of 10; if the total of the second 2-card set in combination with the 3-card set exceeds 10, the total is determined by deducting 10 from the final score. Whatever remains will be compared to the Banker hand.
The bets are paid in accordance to the Bull Bull payout table and the rank of the 5 card combination. The lowest ranking hand is the one that cannot be added for the total of 10 and this type of hand is called No Bull:
10 + 9 + 8 + 4 +4
Bull 1 is a combo of 3 cards that can be added for the total of 10, along with 2 cards adding to 11 or 1:
Q + 9 + A + 8 + 3
Bull 2  is a hand with 3 cards adding up to 10 and 2 cards adding up to the total of 2 or 12:
Q + 9 + A + 2 + 10
Bull 3 is a sequence with the 3-card split totaling to 10, whereas the rest of the cards add up to 13 or 3:
J + 8 + 2 + 8 + 5
Bull 4 occurs when 3 cards add up to 10 while the 2 additional cards result in either 4 or 14:
10 +10 +10 +9 + 5
Bull 5 happens with 3 cards adding to 10 and 2 cards result in 5 or 15:
K + 8 + 2 + 9 + 6
Bull 6 is a hand with 3 cards that result in the total of 10 and two remaining cards give the total of 6 or 16:
10 + 6 + 4 + 9 + 7
Bull 7 is the name of the hand with 3 cards adding to 10 and 2 cards giving the total of 7 or 17:
K + 7 + 3 + 9 + 8
With Bull 8, two of the cards will total 8 or 18 while Bull 9 combines 3 cards totaling in 10 and two cards that add up to 9 or 19:
Bull 8: K + Q + J + 7 + A
Bull 9: 7 + A + 2 + 3 + 6
Bull Bull is right next to the highest ranking hand in this game and it consists out of 3 cards with the total of 10 and 2 cards with the total of 10 or 20:
K + Q + 10 + 9 + A
Finally, 5 Gong is a hand made entirely out of face cards, Kings, Queens and Jack:
K + K + Q + J + J
Bull Bull Payouts
Both of the Player and Banker have different winning and losing odds, as shown in the table below:
Player and Banker Winning Odds
Player and Banker Losing Odds
Hand
Double
Equal
Hand
Double
Equal
5 Gong

 

1 : 4.75
1 : 0.95
5 Gong

 

1 : 5
1 : 1
Bull Bull

 

1 : 2.85
1 : 0.95
Bull Bull

 

1 : 3
1 : 1
Bull 9

 

1 : 1.90
1 : 0.95
Bull 9

 

1 : 2
1 : 1
Bull 7
1 : 0.95
1 : 0.95
Bull 7
1 : 1
1 : 1
Play Bull Bull Online
Now that you know more how the Chinese version of poker Bull Bull works, you might want to give it a try in a real live casino. Check out two Bull Bull game reviews (video too) we have done from two different game provider