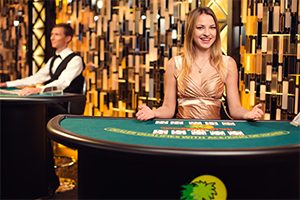 We play live dealer games to feel the excitement of land-based casinos without leaving the comfort of our home. To make the whole experience even more excitement, some software providers have created live tables you can join and win a progressive jackpot while playing your favourite casino game. In this article, we will provide you with information on how live dealer games awarding progressive jackpots function and an overview of the games available on the market.
How Progressive Jackpots at Live Dealer Tables Function
To qualify for a progressive jackpot, a player needs to place a side bet. This bet is optional and you can play the game of your choice without placing it, but in case you want to hit an extra winning, you will have to make an additional wager.  In most cases, a minimum side bet you have to place is €1 and a progressive jackpot can go up to millions in EUR or other currency.
Progressive jackpots are paid out from the same prize pool and all players who place additional bets contribute to it. At some tables, the initial prize pool is €50,000 while at others it starts at €1,000,000. The prize pool can be shared among several players.
Poker Variants by Evolution Gaming
One of the leading providers of live casino solutions Evolution Gaming is a pioneer in offering live dealer tables with progressive jackpots. In January 2017 they introduced their first progressive game by adding a progressive jackpot to their exclusive Live Caribbean Stud Poker table. To win the top jackpot prize, a progressive jackpot that keeps growing, you need to place a side bet and create a Royal Flush hand. Other jackpot prizes are fixed and can be hit with hands like a Three of a Kind, Straight, Flush, Full House, Four of a Kind and Straight Flush paying 2,500:1. The initial prize pool of €50,000 is funded by the provider and it increases with every side bet placed on the game.
Only four months later, in June 2017, Evolution Gaming introduced the biggest online Live Casino Progressive Jackpot by adding the Jumbo 7 Jackpot to Live Casino Hold'em game. By placing an additional bet of €1, players will qualify for a progressive jackpot with the initial prize pool of €1 million secured by Evolution Gaming. The Jumbo 7 Jackpot side bet can earn you a prize even if you fold or get beaten by the dealer's hand in the main game. The top prize is the full amount of the progressive Jumbo 7 Jackpot which increases until it is triggered with a 7 Card Straight Flush. Other jackpot prizes are fixed and of a lower value with a 6 Card Straight Flush paying 5,000:1.
Finally, Live Texas Hold'em Bonus Poker offers the First Five Progressive Jackpot initially funded by Evolution Gaming with €50,000. It can keep growing until it is won with a Royal Flush. To win it, you need to place a side bet which also qualifies you for lower fixed jackpot prizes which function the same way as in Live Caribbean Stud Poker.
Progressive Baccarat and Age of the Gods Roulette by Playtech
Another provider of live casino products, Playtech, offers two progressive games – Live Progressive Baccarat and Age of the Gods Roulette. While the former adds a side bet to the classic version of the game, the latter takes the game of Roulette to a whole new level.
To qualify for the progressive jackpot while playing Baccarat, you have to place a side bet starting at €2. The top prize is paid in case both the player and the banker are dealt an Ace and 8 with all four cards of the same suit. In Age of the Gods Roulette, you have to place a side bet on the Age of the Gods Bonus pocket to activate the special bonus game. Just like slots from the Age of the Gods series, while playing this version of Live Roulette, you can win one of four networked progressive prizes – Power, Super Power, Extra Power or Ultimate Power Jackpot.