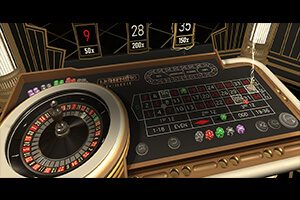 The introduction of live casino games was a groundbreaking invention in the online casino world. Since then, numerous live dealer tables have been set up with multiple games and variants players can choose from. While providers primarily focused on the most popular traditional casino games like Blackjack and Roulette, the following years have brought many other titles attracting players worldwide thanks to an immersive gaming experience they offer.
However, the latest releases show different trends. Lately, suppliers of live casino solutions have offered games that diverge from standard casino games. So-called soft games bringing game shows to players' desktop and mobile devices have become more and more popular. One of the providers offering them is Evolution, a company that has launched a range of live casino games in 2019. Among them, you will also find so-called First Person games, which are the latest novelty in the online casino industry. Let's learn more about them.
Turning Live Casino into RNG-Operated Games
It may come as a surprise that the gaming company which has established itself as a leading provider of live casino solutions returns to less innovative technology, but that has actually happened. Evolution has launched four RNG-operated tables – First Person Roulette, First Person Lightning Roulette, First Person Blackjack and First Person Dream Catcher.
The range of games was announced as the world-first from the developer as they combine RNG and live casino gaming. All the games feature 3D graphics and realistic animations to provide players with an immersive gaming experience and offer a Go Live button. Using this button, players can switch from virtual to live tables within the same game.
What's So Special About First Person Games?
According to the developer, First Person games can support thousands of players at the same time. Being superior in their appearance with high-quality 3D visuals, they are an attractive offering in their own right. At the same time, the live dealer version of the game is just a click away from RNG players.
As for the rules and gameplay, these games do not differ from their live casino counterparts. All betting options are available including side bets at First Person Blackjack. They feature easy to use interface allowing players to make their moves without difficulty. The only difference between the two versions of the games is in the time required for placing bets. While we have a set amount of time within which we have to complete our bets when playing live dealer games, at First Person games, we can control the pace at which the game plays.
Do We Need First Person Games?
Some may say that this is an unnecessary venture for Evolution, but we have to disagree on that one. First Person games are perfect for novices to live casinos and can be a smooth transition between the two forms of entertainment. Less experienced players may find it difficult to keep up with live dealer games because of a set amount of time they have to place bets. On the other hand, while playing the game at a pace that suits them, they can learn all about it and apply the proper strategy to gain leverage over the casino.
In conclusion, we have a few tips for you if you want to give First Person games a try. Unlike standard RNG-operated table games, these games are played in real money only. That's why it is important to learn the rules and strategies before you join any of Evolution RNG-operated tables or use the Go Live button. To play First Person games, visit any of Evolution-powered live casinos!