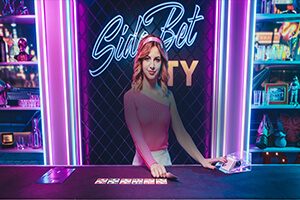 So far, 2019 has been quite a busy year for Evolution. They have released several highly exciting titles including the branded games Monopoly Live and Deal or No Deal. One of the recently released live table games that caught our attention is definitely Side Bet City. The table inspired by 80s aesthetics offers the game of Poker in a unique environment. Due to a range of optional bets, you can play, the game may seem a bit overwhelming. That's why we bring you a strategy you can apply to make the most of it and have fun!
About the Game
Side Bet City is the latest Poker variant added to Evolution-powered live casinos. It is based on Poker hands and does not require any special skills. You should know some basic stuff about Poker hands and their value, but practically, all you have to do is place a bet or more of them if you wish so. There are no moves you should make to create a Poker hand. What you see on the screen is what you get. Poker hands are created with the cards dealt by the dealer and that's it, as simple as that.
When it comes to bets, there is no main or Ante bet. All bets available are optional and you can choose to play a single one or a combination of them. They include a 3-Card Hand, 5-Card Hand, 7-Card Hand and All Lose bet. As the cards are dealt, you can see in the lower right corner the possible winning hands highlighted. When a round is over, you are informed whether you have won on your bet(s) or lost your money. An unlimited number of players can join the table and play the game at the same time. In this game, you don't play against the dealer – it's just you and the paytable.
What's the Best Strategy?
With no decisions you can make, the game of Poker is reduced to luck based game. Initially, the dealer deals three cards face-up from a single deck shoe and they determine the result of the 3-Card Hand. The next two cards are dealt and they reveal the result for the 5-Card Hand. Finally, the two last cards are dealt determining the result for the 7-Card Hand. These cards also reveal whether the All Lose bet wins. Keep in mind that this bet wins only when none of the 3-Card, 5-Card or 7-Card Hands has won. You can play the All Lose bet only.
What you should know about all the bets available is that they don't pay the same way. For instance, creating a royal flush hand with a 3-Card Hand bet pays 100:1, with a 5-Card Hand 1,000:1 while with a 7-Card Hand bet it pays 500:1. An RTP of each bet varies as well, so the bets with the highest RTP are 3-Card Hand with 96.69% and All Lose with a 96.29% RTP. The 5-Card Hand bet has an RTP of 95.21% while the 7-Card Hand bet has even lower RTP of 94.34%.
The value of RTPs can help you make the right choice. Although you can never tell if a certain bet will win in the games like this one, your odds are higher with the 3-Card Hand and All Lose bet. When it comes to the All Lose bet, you can think of it as the Insurance bet in Blackjack. It pays only 0.7:1, but it wins quite frequently. If you want to play longer, you should consider playing the bets with the highest RTP – 3-Card Hand and All Lose. For added excitement, you can place a 5-Card Hand bet every now and then as it pays the biggest prizes.
Why Play Side Bet City?
If you are new to Poker, Side Bet City might be a perfect fit for you. It is a fast-paced game which doesn't require any skills. What's more, it looks amazing with an 80s-themed setting and engaged dealers. On the other hand, it is a bit risky game to play as there is no strategy that can help you beat it for sure. Managing your bankroll and sticking to it is the most you can do to prevent your complete failure.
Click here to visit BitStarz Casino and give Side Bet City a try!