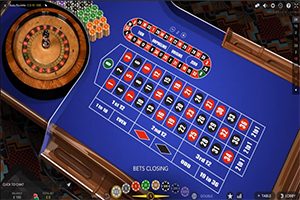 Auto-Roulette is a live casino game that features a real wheel and no dealer. With 60 to 80 games played per hour, the game is created with players who prefer the fast-paced action in mind. This version of the game is definitely more exciting than RNG-operated Roulette, but is it really worth your money? In this article, we will try to provide you with an answer to this question.
Playing Auto-Roulette at Live Casinos
Auto-Roulette tables can be found at live casinos powered by a range of software providers. They include Evolution Gaming, Extreme Live Gaming and Authentic Gaming, to name a few. Once you are at the casino lobby, you can easily choose Auto-Roulette from the tables on offer according to your bankroll as most casinos offer tables for both casual and high-rolling players. While some casinos offer high-stakes tables only, other allow half-currency units betting which appeals to a wider audience.
This Roulette variant uses the rules of the European version of the game. Instead of a live dealer releasing the ball, the wheel uses a slingshot that launches the ball when the wheel stops spinning. Before the ball is launched, players should place their bets by selecting a chip size. Wagering functions in the same way as at regular Roulette tables with standard betting options available. Between rounds, you will wait 30, 50 or 60 seconds, depending on the version of the game you choose to play.
Advantages of Playing Auto-Roulette
If you like playing Roulette and you want rounds to be completed quickly, Auto-Roulette is a perfect fit for you. While these tables may not look as luxurious as those operated by live dealers, Auto-Roulette still uses the real-life equipment and is a great alternative to an RNG-powered game. The biggest advantage of playing Auto-Roulette is the possibility to place lower bets due to lower costs of maintenance. If you are a high-roller, you can enjoy this Roulette variant of the game at VIP tables allowing you to place bigger bets.
Players can join Live Auto-Roulette tables whenever they want, any time day or night. They can use desktop or mobile devices to enjoy this form of entertainment and make up to 80 decisions per hour. Using the rules of European Roulette, Auto-Roulette has a 2.70% house edge which is favourable to players. Just like other live dealer games, Auto-Roulette is streamed in real-time with action captured from different angles, which provides players with an immersive gaming experience.
Additionally, auto-roulette has the advantage of being cheap and easy to maintain. This doesn't seem relevant to us players, but many of the cheapest live roulette wheels are automatic. You can check out our list of the best penny roulette tables for a rundown of some great games for punters on a budget.
Closing Thoughts
The recent launch of the Arena studio in Malta by Authentic Gaming proves that Auto-Roulette is definitely popular with gamblers. The studio is home to six Live Auto-Roulette tables including Speed and VIP Roulette. One of their most popular offerings is Blaze Roulette taking the automated play to the next level with live dealers hosting the game during certain hours. Such an approach to this variant of the game may suggest that live casino players still prefer the games that are operated by real-life dealers than those offering automated play.
If you like to take your time to make decisions and place your bets, you should consider joining other Roulette tables. Due to fast-paced gameplay, Auto-Roulette requires quick decisions and those who don't feel ready enough to make them within the given time may not be as successful as players who prefer the fast-paced action. If you have been asking yourself whether Auto-Roulette is worth your money, the answer is definitely "yes". However, you should think about your personal preferences and playing style before you join this version of the game of Roulette.