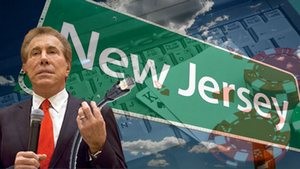 The state Division of Gaming Enforcement has approved the withdrawal of Wynn Interactive's application for an online gaming license in New Jersey, one of the three states that allow online gambling in the US. This did not come as a surprise as casino magnate Steve Wynn is known to oppose the legalization of online gambling.
A Chance to Return to Atlantic City
Ever since he sold Golden Nugget in Atlantic City, which was an immediate success and earned him $440 million, Steve Wynn has been lurking on a good chance to go back to Atlantic City. Introduction of new legislation concerning online gambling in New Jersey in 2013 sounded like an opportunity for a comeback. Since Wynn Resorts currently do not operate any land based casinos in Atlantic City, they needed a partner who does. So Wynn filed for a license in cooperation with Caesars Interactive in July 2013. The state regulatory body granted the license in February the following year, however Wynn Interactive announced that they were putting the plans of realizing an online casino "on hold". Steve Wynn even said that "online gaming does not appear to be a good entrepreneurial opportunity".
Internet Gambling Does Not Sound Appealing
In spite of the fact that Wynn Interactive have filed for and eventually got the license to run an online gambling site, Steve Wynn is not a supporter of gambling on the internet. This is probably the reason why they decided to send the letter to The New Jersey Division of Gaming Enforcement requesting to withdraw their application, which was approved in short notice. Although he was at first in favor of legalization and he even made his business strategies and plans in accordance with the new legislation, lately Steve Wynn has been showing opposition to internet gambling joining another casino magnate Sheldon Adelson, CEO of Las Vegas Sands. Primarily, Wynn does not see it as a good business opportunity, while he also expresses his concerns about the problems of all the gambling content being accessible to minors. He feels that online gambling poses a great danger as it will be available on all the platforms that mainly young people use today. Despite the attempts to convince him that the technological advances guarantee both safety and expansion of the business, Wynn is still skeptical about the benefits of online gambling. Unlike Adelson he is not completely against it and he prefers to keep an open mind, yet for now he does not believe it would pay off.